After a hot run, the 2 iron ore stocks listed on the SGX -- Fortress Minerals and Southern Alliance Mining -- have cooled off. So have iron ore stocks listed in exchanges such as ASX. The reason: Iron ore prices have turned down. But they are still at elevated levels compared to, say, a year ago. Below is a report on the iron ore situation.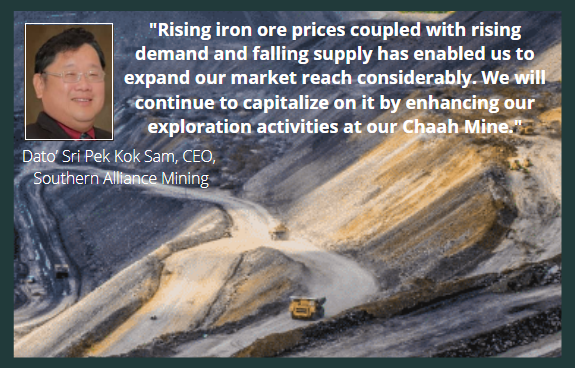 Excerpts from KGI report


Too hot to handle
Potential regulations on the way. On Sunday, key Chinese government agencies (the NDRC, the Industry Ministry, the State-owned Assets Regulator, the State Administration of Market Regulation, and the China Securities Regulatory Commission) held talks with major domestic commodity companies and urged them not to drive up prices.

The authorities not only paid attention to the overheated commodities rally, but also realised that the movement behind the rapid rise in prices was driven by speculation. With potential regulations to be launched, the iron ore market is expected to cool down temporarily.



However, has the market peaked? Probably not. As we mentioned in our previous write-up, credit conditions and supply-demand dynamics are the major factors driving the bull market. The current credit cycle peaked in October 2020, but we believe inventory build-up is only halfway to the peak as historical track record shows an inverse correlation between the two cycles: credit cycle's peak is inventory build-up cycle's bottom, and vice versa.

China's iron ore import displays a strong seasonality. Generally, there are three to four high seasons of import, and each period is between three to four months. The last surge in import was in March, hence, we believe the next buying spree will be due in June or July. Moreover, we think the current inventory level is still healthy compared to historical levels. With a consistent increase in consumption of iron ore driven by economic recovery, inventory levels are likely to gradually decline until iron ore price edges down to a reasonable level.

From a technical perspective, iron ore price has pulled back to the level at the end of April, wiping out the month-to-date gains. In addition, the current price sits at a Fibonacci support level (61.8%). We believe iron ore will stabilize at the current level provided no aggressive cooling measures are announced by the Chinese government.

Full report here.