Excerpts from UOB KH report

Analyst: Adrian Loh
More Upside For The Containership Market
The bulk of YZJ's orderbook growth in the past 12 months has come from containerships totalling 81 vessels (or 70% of its orders) worth US$5.42b.


Yangzijiang

Share price:
$1.47

Target:
$1.76
We believe this order momentum can be sustained as the number of vessels on order globally is at a 15-year low.

Also, there is a high level of scrapping of small- and medium-sized container vessels with replacement likely for the latter segment.

YZJ also has exposure to dual-fuel LNG containerships.

Maintain BUY. Target price: S$1.76.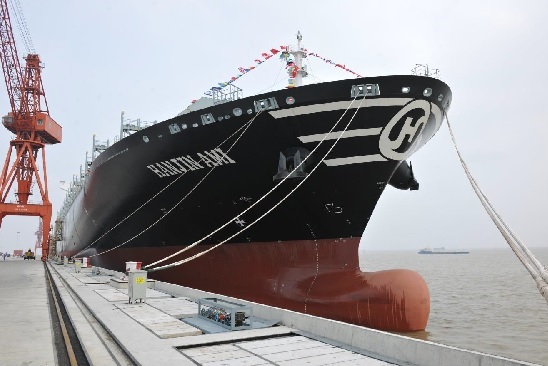 WHAT'S NEW
• Racing towards record order wins in 2021. With slightly over US$4b in new orders garnered ytd in 2021, it would appear that Yangzijiang Shipbuilding (YZJ) is well on its way to beating its 2007 new-order win total of US$5b in a calendar year.

In the past 12 months (May 20-Apr 21), YZJ has won US$5.42b in orders, and of the 115 vessels ordered, 81 (or 70%) are containerships.

• The containership upcycle appears sustainable as the number of containerships on order is at a 15-year low at only 284 in 2021 ytd vs 2005 when 900 of such ships were on order (see chart).

Notably, the vessels that have seen a pick-up in orders are the small (1,000-4,000TEU) and large-sized (>5,000TEU) vessels.

Also, we highlight that the number of vessels on order closely tracks the container time charter index, with the latter seeing a material increase ytd in 2021. One potential conclusion is that orders for new container vessels will continue to flow to shipbuilders in 2021 and 2022.

• Exposure to dual-fuel LNG vessels. A recent meeting with a ship owner revealed that it will be increasingly difficult for owners to order traditional 100% fuel oil or marine dieselpowered vessels, especially for medium- to large-sized vessels.

The key issue is a ship's useful life of 25 years which would potentially put the majority of a newbuild's lifespan into a period where many governments will increasingly legislate to control carbon and greenhouse gas emissions.

Instead, dual-fuelled vessels (ie using both fuel oil/diesel and LNG) will be the focus, along with their less polluting engines. The cost differential between LNG powered vessels and traditional vessels has come down from a 20% premium five years ago to about 5% or less.

YZJ has already garnered orders for six dual-fuel vessels of which two are very large containerships. Having such early exposure to this niche segment bodes well for YZJ's long-term shipbuilding prospects, in our view.

STOCK IMPACT
• Increased levels of scrapping. Small and medium-sized containerships have seen increased levels of scrapping in the past decade with the former reaching 50% of total fleet scrapped in 2021, while 30% of the fleet of medium-sized vessels were scrapped ytd in 2021.

While the supply of small feeder containerships (ie <1,000TEU) is unlikely to materially increase in the next few years, given that orders have been in single digits since 2011, orders for medium-sized vessels appear to have meaningful upside, in our view.

EARNINGS REVISION/RISK
• None


VALUATION/RECOMMENDATION


• Maintain BUY on YZJ with a target price of S$1.76, based on an aggregate of our PE and P/B valuation methodologies.

Our PE valuation of S$1.89 is based on a target 10x multiple (+1SD above the company's past five-year average PE) and pegged to our 2022 EPS estimate.

Our target P/B multiple of 0.9x is 1SD above YZJ's past-five-year average resulting in a P/B valuation of S$1.62.



SHARE PRICE CATALYST


• Continued new order wins, especially from China-based clients.
• Better returns on its debt investments portfolio.


Full report here.