Excerpts from UOB KH report

Analyst: Clement Ho
Rubber Accelerators' ASP Remains Elevated Due To High Demand
The strong demand for rubber tyres has helped sustain the ASP of rubber accelerators at an elevated level.


China Sunsine

Share price:
56 c

Target:
69.5 c
For 2021, incoming new capacity for insoluble sulphur will help to further entrench Sunsine's top position as the key global supplier of essential additives for the production of rubber products.

We expect 2021 sales and net profit to grow 63% and 37% respectively.

Maintain BUY with a higher target price of S$0.695 after changing our valuation methodology.
WHAT'S NEW
• Strong demand for rubber accelerators supporting ASP. The China Association of Automobile Manufacturers (CAAM) estimates 1Q21 auto sales at 6.34m units, up 73% yoy, driven by both passenger vehicles (+74% yoy) and commercial vehicles (+71% yoy). This has translated to a healthy demand for rubber accelerators, and is further reflected in the sustained high price for the feedstock.

For 2021, CAAM expects vehicle sales of 26.3m, a 4% increase over 2020 and should provide tailwinds for the demand of rubber accelerators.

• Entrenched top position as a global producer of rubber accelerators. China Sunsine (Sunsine) is the top producer of rubber accelerators with an annual capacity of 117,000 tonnes.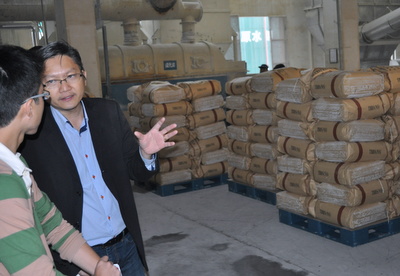 Rubber accelerators being produced at China Sunsine. NextInsight file photoThis is more than the combined capacity of the world's number two and three producers, Yanggu Huatai (60,000 tonnes) and Tianjin Kemai (51,600 tonnes).

This provides for greater scalability and better pricing flexibility to maintain Sunsine's leading market share position, estimated at 34% for the China market and 22% for the global market in 2020.

Also, Sunsine is the second-largest producer of insoluble sulphur, a feedstock required in the vulcanisation process to cure rubber, with a capacity of 30,000 tonnes/year. The capacity will be expanded to 60,000 tonnes/year in 2021, spearheading Sunsine to the top producer position globally and ahead of Yanggu Huatai's (40,000 tonnes).


• Main feedstock aniline prices remain elevated
The ASP of rubber accelerators, the main earnings driver for Sunsine, has continued to gain ground, in tandem with aniline, the major feedstock for rubber accelerators, due to higher crude oil prices. The average price of aniline rose 54.4% yoy in 1Q21 to Rmb10,068/tonne, a 41.3% sequential increase over 4Q20.

STOCK IMPACT
• Vehicle numbers growth outweighs global auto chip shortage. CAAM estimates that the global auto chip shortage will lead to a production cut of 2m units in the global auto market.

That being said, CAAM still expects vehicle sales of 26.3m, a 4% increase over 2020. Historically, 30% of the tyre market is driven by new vehicle sales, while 70% comprises replacement tyres. We maintain our hypothesis that the supporting tyre industry is expected to return to normalcy in 2021 as traffic volume returns to pre-pandemic levels.

EARNINGS REVISION/RISK
• Our 2021-22 revenue and earnings estimates remain unchanged.


VALUATION/RECOMMENDATION
• Maintain BUY with a higher target price of S$0.695.

We have switched our valuation methodology from EV/EBITDA to forward PE.

Pegged to 11.4x 2021F earnings, or 1.5SD above its 10-year historical average, we derived a target price of S$0.695.

At the current price, Sunsine is attractively valued at 9.3x 2021F PE and 5.4x on an ex-cash basis.

SHARE PRICE CATALYST
• Higher ASP for rubber accelerators.
• Higher-than-expected utilisation rates.

Full report here.