It was during some of the darkest days in his entrepreneurial journey that Sean Lee learnt what it takes to forge ahead, despite overwhelming odds.

The Chief Executive Officer of SGX-listed Marco Polo Marine Ltd struggled for many months to keep his marine logistics company afloat, amidst a protracted downturn in the oil and gas industry that began with plunging crude prices in mid-2015.

"Those days were the toughest I had ever encountered," Lee recalled. "Everything crumbled when oil prices collapsed. Most of my peers in the industry went belly-up because funding from the banks evaporated. If we had also thrown in the towel, all our stakeholders, employees, and subcontractors would have suffered, so we chose the hardest route, which is to try and save the company instead."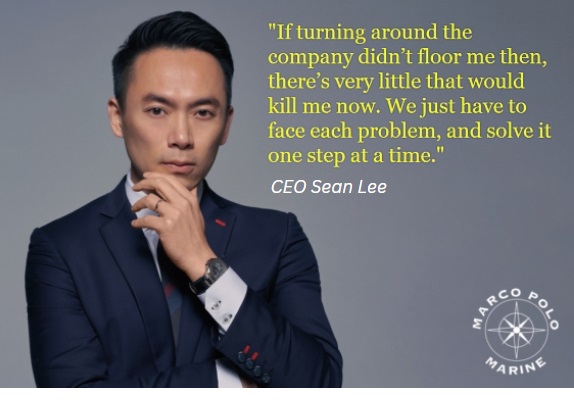 Lee spent nearly a year looking for investors and liquidity sources to shore up Marco Polo. In November 2017, he found nine new investors who pooled together S$60 million in rescue financing for the Group. Apricot Capital, Yanlord, Penguin International, Soilbuild, Goldbell, and Oxley were some of the companies named in association with the equity injection deal.

"When we were searching for investors, I visited 150 people, and was rejected 141 times. The process of knocking on every single door - one after another - wasn't an easy one," he admitted.

At the end of the day, it was all about staying the course. "As cliched as it may sound, I really learnt what perseverance, stamina and commitment means," he added. "It all boils down to a 'never say die' attitude."

Four years on, following a massive debt restructuring and refinancing exercise, Marco Polo has cleaned up its balance sheet, and swung from a net debt to a net cash position. As at 30 September 2020, net debt to equity was a negative 14%, while cash and cash equivalents stood at S$13.6 million.

"That period was quite a rollercoaster ride, and now, the Group is finally out of the woods," Lee said.

"Today, while oil and gas remains our bread and butter, we're actively expanding our business ventures, and focused on transitioning into the renewable energy sector. This is a fledgling industry with huge opportunities, as countries and organisations increasingly turn to green energy sources. This augurs well for our growth prospects."

Post-Restructuring Pivot
Listed on the then SGX Sesdaq in 2007 and migrated to the Mainboard in 2009, Marco Polo Marine principally engages in shipping and shipyard operations. Its shipping business revolves around the chartering of Offshore Supply Vessels (OSVs), which comprise Anchor Handling Tug Supply (AHTS) vessels for deployment in regional waters, as well as chartering of tugboats and barges by customers engaged in the mining, commodities, construction, infrastructure and land reclamation industries.

The shipyard operations focus on shipbuilding as well as ship maintenance, repair, outfitting and conversion services, carried out in its shipyard in Batam, Indonesia. Occupying a total land area of about 34 hectares with a seafront of approximately 650 meters, the shipyard also houses three dry docks, boosting the Group's technical capabilities and service offerings to undertake projects involving mid-sized and sophisticated vessels.

Tapping on this core expertise, Marco Polo is pivoting to the renewables sector, providing customised solutions in the chartering, development, fabrication, and construction of bespoke renewable energy assets for its customers.

In particular, the Group is actively pursuing contracts for the construction of offshore wind farm vessels in the region. Although the specifications are different from those used in oil and gas exploration projects, vessels can be deployed to support certain parts of the wind farm installation and construction, without additional capital expenditure.

"Offshore wind farms are low-hanging fruit in the region - there is a lot of potential for the construction and installation of such projects in Taiwan and many opportunities in countries like South Korea, Japan and Vietnam," Lee said.

Analysts point out that the offshore wind as well as oil and gas industries share technologies and elements of their supply chains. The International Energy Agency (IEA) estimates that 40% of the full-lifetime costs of an offshore wind project, including construction, has significant synergies with the offshore oil and gas sector.

"The burgeoning offshore wind energy industry in Asia is in its nascent stage, where structures are still installed in shallow waters with depths of up to 50-60 metres. This presents a tremendous area of opportunity for Marco Polo Marine, whose fleet specialises in those depths," UOB-Kay Hian said in a company report published in August last year.

"Of particular interest is the Taiwan offshore wind market, one of the fastest growing in the world - the government targets to produce 15.5 gigawatts of electricity through offshore wind by 2035, making it the most sought-after destination for the world's top offshore wind developers as they seek a foothold in Asia," it added.

Green Economy Focus
Meanwhile, Marco Polo continues to grapple with a number of challenges, not the least of which is weaker oil demand due to the global downturn following COVID-19. Oil prices fell dramatically in the early stages of the pandemic, and have only partially recovered to pre-crisis levels.

For its ship chartering business, the Group will step up marketing efforts and explore additional revenue sources by going beyond Southeast Asia, although the success of such efforts ultimately depends on containment of the pandemic. Utilisation of its tugboats and barges is expected to improve as construction activity in Singapore progressively resumes. As for the shipyard division, it will focus on securing ship repair and maintenance orders from regional ship owners.

One saving grace is that the COVID-19 has brought sustainability and clean energy sources into even greater focus, Lee noted.

"Investors have shied away from traditional coal projects and a lot of liquidity has poured into renewables - this has picked up during the pandemic," he added. "The move towards a sustainable and green economy is developing faster than anticipated, and we want to ensure that we are part of that shift."


Understandably, there's much to keep the 44-year-old up late into the night. "I am a worrier, an over-thinker," Lee admitted with a laugh. "I constantly worry about the ever-changing business environment, and I'm always turning over in mind all the "what ifs"."

"But I have learnt to take it much easier now. If turning around the company didn't floor me then, there's very little that would kill me now. We just have to face each problem, and solve it one step at a time. I always remind myself that no matter how tough the situation may appear to be, with perseverance and hard work, we can still get through it," he added.

Lee has two daughters and a son, aged six to 20. The values that he wants to impart to his children include honesty and sheer grit.

"Integrity is one of the key reasons our investors were willing to put their money with Marco Polo Marine - when they invested, they invested in me and my team," Lee said.

"Likewise, without determination, we would not be here today. I always tell my kids, never be scared of what is ahead, just do it, and when you need to make a decision, just make it. If it doesn't work out, keep at it, work at it, until it does - these should be your life's values."

Marco Polo Marine Ltd
Listed on SGX Mainboard since 2007, Marco Polo Marine is an integrated marine logistics company, which has expanded to become a reputable player in the region. The Group's ship chartering business provides Offshore Supply Vessels (OSVs) as well as tugboats and barges, which are deployed in regional waters for its customers in the offshore oil and gas, mining, commodities, construction and infrastructure sectors. The Group's shipyard business undertakes shipbuilding and maintenance as well as repair, outfitting and conversion services in Batam, Indonesia.
The company website is: www.marcopolomarine.com.sg

Click here for the company's StockFacts page.

For the year ended 30 September 2020 financial results, click here.

This article was first published on the SGX page About kopi-C: the Company brew
Text: Jennifer Tan-Stanisic
Photo: Company file

kopi-C is a regular column on the SGX Research website that features C-level executives of leading companies listed on Singapore Exchange. These interviews are profiles of senior management aimed at helping investors better understand the individuals who run these corporations.

For previous editions of kopi-C: the Company brew, please click here.