AEM stock jumped 26 cents to $4.18 yesterday following an announcement by its key client, Intel Corp.

A Lim & Tan Securities article commented:
"The latest Intel news is bullish for its key test handler supplier listed in Singapore (AEM Holdings $3.92, up 0.01). AEM is a crucial partner for Intel in supplying them next generation test handlers and currently trades at 10x PE and yields 2%. Bloomberg consensus target price is $5.02, representing a 12 month upside potential of 28% from the current level."

The Lim & Tan article continues below:


Intel Corp unveiled an ambitious bid to regain its manufacturing lead by spending billions of dollars on new factories and creating a foundry business that will make chips for other companies.

The stock jumped about 5%. The plan, launched Tuesday by new Chief Executive Officer Pat Gelsinger, is an aggressive move that puts Intel into direct competition with Taiwan Semiconductor Manufacturing Co., the world's most advanced chipmaker.

Gelsinger will spend an initial $20 billion on two new plants in Arizona to support Intel's attempt to break into the foundry business.

Intel plans even more factories in the U.S., Europe and elsewhere, with the CEO pledging that the majority of the company's chips will be manufactured in-house.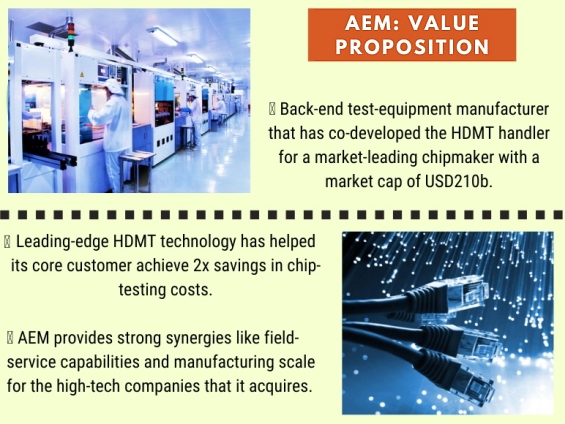 Intel dominated the $400 billion industry for decades by making the best designs in its own cutting-edge factories. That strategy crumbled in recent years as the company missed deadlines for new production technology, while most other chipmakers tapped foundry specialists to make their designs.

Intel's factories now trail TSMC and Samsung Electronics Co., which make chips for Intel competitors, such as Advanced Micro Devices Inc., and big Intel customers including Amazon.com Inc. and Apple Inc.

The plan will give Intel "a unique ability to have leadership products, with the leadership supply chain and leadership cost structure across every portion of our business," said Gelsinger, who re-joined the company earlier this year.

"We are off to the races, we're going to be at parity and then to move to sustained leadership, over time."

Gelsinger's predecessor considered abandoning Intel's in-house manufacturing entirely and some investors wanted the company to cut costs by outsourcing production. The new plan scraps those approaches and represents an expensive, multiyear re-commitment to Intel's manufacturing heritage.

During a presentation on Tuesday, Intel forecast capital expenditure of as much as $20 billion in 2021, up from $14 billion last year. The company also projected revenue this year that missed Wall Street estimates.

The company's problems came to a head last year with a delay in its latest 7-nanometer production process. That followed similar missed deadlines for the previous 10-nanometer standard. On Tuesday, Intel said the latest manufacturing technique is now progressing well, helped by a simplified process.

"Even though the stumble on 10 and seven was embarrassing for a company like ours, it's fixed," Gelsinger said in an interview. "We understand what the problem is."

Intel will use TSMC chip foundries for some of its needs, including parts of its most important products, Gelsinger also said. While that's a step beyond what it currently does, the company will still produce the majority of its products internally. The world's largest chipmaker is creating a new unit, called Intel Foundry Services, that aims to "become a major provider of U.S. and Europe-based foundry capacity to serve the incredible global demand for semiconductor manufacturing."

To support this effort, Intel will begin a "significant" expansion of its manufacturing capacity, beginning with two new plants adjacent to its site in Chandler, Arizona. Intel will announce further capacity expansions in the U.S., Europe and other global locations later this year.