insiders such as The share prices of glove manufacturers have weakened in the past two months or so. ButRiverstone Holdings' Wong Teek Son

(photo)

continued to accumulate their companies' stock. Are they in the know that the business outlook remains strong? This analyst report reinforces the point that fundamentals are indeed robust. But market sentiment has turned cautious.

Excerpts from UOB KH report

Analyst: Philip Wong

Rubber Gloves – Malaysia

Prospects Are Intact But ....
... May Be Weighed By Sentiment

Industry prospects remain intact against the backdrop of undemanding valuations and attractive dividend yields.


But we acknowledge:

a) unparalleled valuation surge;
b) yet-to-be ascertained 2022 ASPs; and
c) negative sentiment may prove to be too steep of a speed bump to near-term prospects.
As such, we have trimmed our target prices.

Maintain OVERWEIGHT on the sector as we believe the risk-reward trade-off still remains attractive.

Top pick: Top Glove.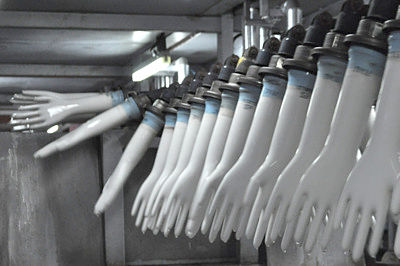 ASPs will possibly peak in 2Q21. WHAT'S NEW
• Indicators still point to uptrend but plateauing. The glove manufacturing sector has a delivery lead time that stretches for 510 days, or till mid-22.

It has been extending from early March but at a slower rate.

In turn, ASPs commanded have been unprecedented, with expectations for it to further uptrend till 2Q21, before seeing some weakness in 2H21.

Meanwhile, spot sales ASPs appear to have reached a ceiling at US$220/'000 pieces.

These factors are expected to more than offset the expected surge in nitrile latex cost.

We do not expect industry dynamics to fall off a cliff.

But rather, we expect it to take a gradual course of normalisation amid commercialisation of multiple COVID-19 vaccines.

• Possible peak ASPs in 2Q21 could signal peak quarterly earnings. We expect blended industry ASPs to peak in 2Q21, thanks to uptrending contracted nitrile and latex glove ASPs as well as spot sales ASPs.

In terms of contracted nitrile ASPs, the industry largely expects it to be sustained at US$80-100/'000 pieces throughout 2021.

In terms of spot sales, volume as a percentage of overall sales varies across glove producers (Top Glove/Hartalega/Kossan/Supermax: 30%/7-10%/10-15%/10% respectively).

Spot sales are extremely lucrative, commanding up to a 50% premium relative to contracted ASPs.

But subsequent to 2Q21, blended ASPs may come off due to lower spot sales ASPs and mix.

This could signal a peak in terms of quarterly earnings and valuations.




ACTION
• Maintain OVERWEIGHT. Despite anticipated newsflow over a vaccine discovery, production and mass vaccination, we believe it would take between 12-18 months to achieve global herd immunity.

Against this backdrop of better awareness, best hygiene practices and restocking of supply chains, we expect ASPs to peak in 2Q21 and for this to be largely sustained throughout 2021.

Our OVERWEIGHT recommendation is premised on:

a) multifold valuation gains yet to fully factor in the impending earnings surge in the quarters ahead;

b) sustained glove demand over 2021;

c) scarcity of safe-haven earnings growth (2-year earnings CAGR of 222% in 2019-21) as most of the other sectors face a multitude of headwinds; and

d) attractive dividend yields, with a possibility of a special dividend.
Our top sector pick is Top Glove.

We also like Supermax for its ambitious expansion plans coupled with re-rating catalyst tied to its inclusion into the FBMKLCI Index.

Our other buy is rounded up with Kossan, with its appealing valuations.

Full report here.