Excerpts from UOB KH report

Analyst: Clement Ho
Improved Operating Leverage From Greater Gross Margin
Sunsine provided a positive 3Q20 update, lending support to our recent upgrade.


China Sunsine

Share price:
47 c

Target:
58 c
The business saw an overall improvement relative to 1H20, in tandem with the Chinese economy's strong recovery in 3Q20.

The continued recovery in rubber accelerators' ASPs is supported by elevated demand for new vehicle tyres in China, which we believe should continue in the foreseeable future.

Maintain BUY with higher target price of S$0.58.
WHAT'S NEW
• Positive 3Q20 business update. China Sunsine Chemical's 3Q20 revenue came in at Rmb600m (-8% yoy), mainly dragged by lower ASPs of rubber accelerators, but this was partially mitigated by a record sales volume of 46,000 tonnes (+8.7% yoy) due to new capacity added (+11.6%) in May 20.

Capacity utilisation rate spiked to 95% (2Q20: 80%), which helped the expansion in gross profit margin to 28.3% from 23.2% in 1H20.

• ASPs of rubber accelerators continue to gain ground. The selling prices of rubber accelerators, the main earnings driver for Sunsine, have continued to gain ground.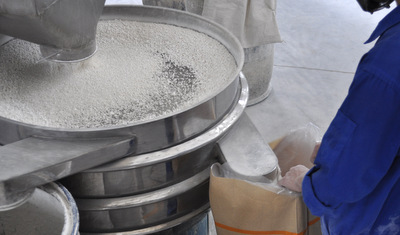 Rubber accelerators being produced at China Sunsine. NextInsight file photo The rise is in tandem with higher average prices of aniline, the major feedstock for rubber accelerators, which has gained an estimated 26% to Rmb6,650/tonne since end-Sep 20.

We believe the cyclical uptick is led by higher demand for vehicle tyres, from sustained growth in China new vehicle sales over the past six consecutive months since Mar 20.

• Rise in vehicle sales looks sustainable. China's vehicle sales have risen above the 10% mark for the sixth consecutive month in Oct 20 (+12.5% yoy).

This proves that the domestic economy has largely recovered, helped by government stimulus measures.

These measures include the encouragement of vehicle purchases, with more vehicle permits issued in major cities, as well as greater demand for infrastructure-related heavy vehicles due to increasing efforts to resume construction projects.

We believe the favourable policies will continue in the mid-term, driving recovery towards a more normalised level.

Furthermore, growth in vehicle sales is anticipated to continue in the foreseeable future given China's relatively low penetration and expanding middle class.

STOCK IMPACT
• 46% net profit growth in 2021F. The estimated 2021F net profit of Rmb299.7m (+46%) will be driven by a 43% jump in revenue to Rmb2,668m, largely attributable to higher sales volume of 221,750 tonnes (+30%) arising from Sunsine's expanded production capacity (please refer to table below).

Furthermore, higher vehicle sales in China is expected to drive increased demand for tyres, hence leading to a potential 10% rise in the ASP of rubbers accelerators from a low base in 2020.

EARNINGS REVISION/RISK
• We have tweaked our 2020-21 net profit forecasts slightly higher to Rmb204.9m (+3.2%) and Rmb299.7m (+2.1%) respectively. Our forecasts incorporate higher gross profit margins of 22.7% (+0.3ppt) and 21.4% (+0.2ppt), respectively, to reflect the better-than-expected gross profitability.

• Our 2020-21 revenue estimates remain unchanged.


VALUATION/RECOMMENDATION


• Maintain BUY with higher target price of S$0.58 (from S$0.48). We raise our valuation peg to 3.5x EV/EBITDA, or +1SD of its 5-year average.

The upward shift is backed by the cyclical upturn in ASPs of rubber accelerators, which is supported by the sustained growth in China vehicle sales.

Our target price implies 2021F PE of 9.6x and ex-cash of 4.1x.



SHARE PRICE CATALYST


• Higher ASPs for rubber chemicals.
• Higher-than-expected utilisation rates.