Medtecs International, listed on SGX, has seen its PPE (personal protective equipment) business soar during the current Covid pandemic. We have published a number of articles (linked below) and here are excerpts from SGX Research's recent 10 in 10 profile of Medtecs that can broaden investors' understanding of the company.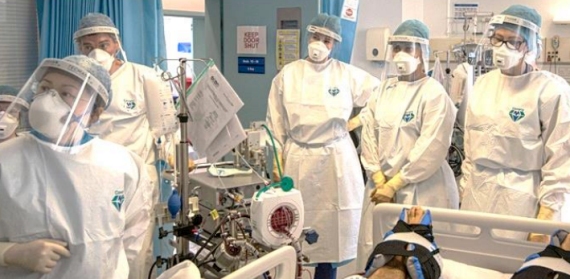 Front-line healthcare workers in a UK hospital donning Medtecs' PPE with the CoverU brand logo. Photo: The Telegraph
Who are some of Medtecs' existing clients?

• With our strong operating track record of 30 years, we have long-standing relationships with key customers such as Premier Inc, ST Logistics and Direct Supply.

Key hospitals that we supply to include the National Taiwan University Hospital (NTUH), Mackay Memorial Hospital in Taiwan, Clinica Antipolo Hospital & Wellness Center and De Los Santos Medical Center in the Philippines.

• We distribute on three major e-commerce platforms for the Trading & Distribution segment.

In Taiwan, the Group distributes to 100 corporate clients, 400 pharmaceutical stores and 6,000 convenience stores including 7-Eleven and COSMED.

In the Philippines, we distribute to 300 corporate clients, 100 hospitals and 2,000 chainstores including South Star Drug, Mercury Drug, 7-Eleven and Robinsons Supermarket.


What strategies have you put in place to meet the increased demand for PPE following COVID-19?

• We have implemented measures to increase production capacity in response to the surge in demand.

These include increasing round-the-clock shift workers for uninterrupted output, converting idle plants into additional production bases, supplementing existing production lines with additional machines and equipment, increasing automation and process control for improved efficiency and outsourcing manufacturing of non-critical parts of the products.

• To ensure sustainability, the Group has decided not to increase output with large capital expenditures.

Instead, we adopt our "Source and Sell Globally" strategy where we source from reputable suppliers to meet the demands from our clients.

We are in talks with suppliers to form potential strategic partnerships to minimise supply chain disruptions.

This strategy provides flexibility in working capital and production resources while ensuring that our clients' needs are met.



How do you expect global demand for PPE to remain or change after COVID-19?

• The COVID-19 pandemic disrupted the PPE industry value chain with the unprecedented surge in global demand for PPE.

We believe that the demand for PPE will continue to grow post the pandemic as governments and hospitals see the need to stockpile critical PPE supplies for future needs.

• We believe that Medtecs is well-positioned to provide PPE stockpiling services for states and large institutions.

Our diversified regional production facilities and warehouses, combined with our experiences helping the Taiwan government procure, manage and replenish, its national strategic stockpile of PPE on a rolling basis since 2011, make us an ideal partner for those seeking to ensure their supply of PPE in times of national health crises going forward.


Net profit (USD)

1Q20
(actual)

2Q20
(actual)

3Q20
(actual)

4Q20
(assumed)

FY20
(assumed)

US$3.7 m

US$35 m

US$45 m

US$45 m
minimum

US$129 m (minimum)
"With long-term indicative orders in hand and stabilizing raw material prices, the Company expects to report record revenue and profit in the fourth quarter and financial year ending 31 December 2020."
--
Medtecs (13 Oct 2020)