More than 30 years of being in business have put Singapore-listed Medtecs International in exceptional stead this Covid year.
That's why the Singapore government has been one of its top customers this year along with the Taiwan government.

These countries have for many years sourced

personal protective equipment (PPE) for their national stockpiles

from Medtecs.
Medtecs, manufacturing out of Cambodia and the Philippines, says it is the largest PPE

producer outside of China.




Medtecs gross profit margin

1Q20

2Q20

3Q20

18%

36%

53%
Yes, selling prices for its products (PPE and masks) have eased since peaking in April this year.

Currently, they are "stable" with attractive gross margins because raw material prices have pulled back sharply, and because Medtecs now sells directly to global buyers, said Medtecs CEO William Yang at an earnings call today (10 Nov).

"Even though ASPs have dropped, they have stabilised, our gross profit percentage is still high and we are getting more and more market share."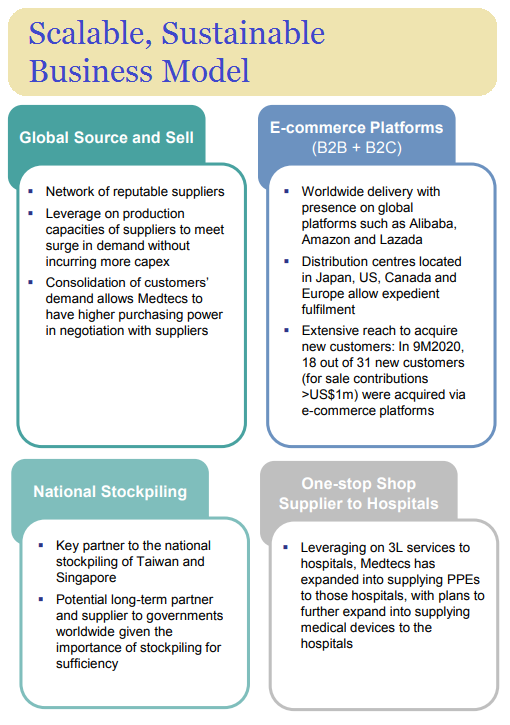 This year has been exceptional in that Medtecs has attracted many new long-term customers, and business volume is looking to grow, said Mr Yang on a 3Q results earnings call.

In fact, possibly, Medtecs will have to expand production capacity.


Stock price

$1.02

52-week range

3 c – $1.98

Market cap

S$560 m

PE (FY20F)*

less than 3.2x

Dividend yield

1.1%

1-year return

2,760%

Shares outstanding

549.4 m

* assumes at least S$175 m profit in FY20, based on company guidance of "record profit" in 4Q.
In Cambodia, where it produces PPE, it has unutilised land to expand production facilities on, and it can tap skilled labour which has been recently laid off by garment factories.

"We'll review the necessity to ramp up our in-house capacity. But as you know, if the orders are big and for the long term, then why not do it in-house?"

Customers usually order 2-3 months in advance of delivery but they also give Medtecs order forecasts for the rolling 6-12 months.

"For 2021, with or without Covid vaccine, our customers' demand is increasing and our market, our orders are just growing," said Mr Yang.

In the US, Medtecs will soon open its initial facility producing masks (branded Medtecs) to tap into demand arising from the President-elect's emphasis on mask-wearing.

Capex for further expansion will be well supported by the large cashflow and profitability this year.

(Based on earlier guidance, Medtecs's 4Q will be at least as strong as 3Q. In other words, the company is set to report at least US$129 million net profit this year)


"With long-term indicative orders in hand and stabilizing raw material prices, the Company expects to report record revenue and profit in the fourth quarter and financial year ending 31 December 2020."

-- Medtecs (13 Oct 2020)
Net profit (USD)

1Q20
(actual)

2Q20
(actual)

3Q20
(actual)

4Q20 (assumed)

FY20 (assumed)

US$3.7 m

US$35 m

US$45 m

US$45 m
minimum

US$129 m (minimum)

This year happens also to be the year Medtecs pivoted to a far more profitable business model.

It created its own brand and sold directly to the world, moving away from doing OEM and selling to middlemen as in past years.
Thus its gross margins, especially starting from 2Q, have expanded along with the higher average selling prices (ASPs) lifted by Covid-induced demand.

Based on the company's announcements, 2Q gross margin was 36%, increasing to 53% in 3Q.


"For the future, we will have hundreds of hospitals buying directly from us. Now they can talk to the brand owner, to the manufacturer directly and we can develop products according to
their needs,"

said Mr Yang.

Medtecs' corporate presentation is here.