It was 10.30 pm last Friday.

Only 6 hours had passed since SGX published a query on its website, asking Medtecs International 3 standard questions relating to that day's "unusual" trading of its stock.
The stock price had fallen 11 cents to $1.07 with 34 million shares changing hands that day.
In fact, the bewildering thing is that it has been sliding since it closed at a peak of $1.85 on Aug 19 / 20, ie 4 weeks ago.
Medtecs replied a standard reply: "We are not aware of any reasons for the unusual trading on 18 Sept."

On stock forums, the general reaction of investors to that was a collective sigh: They have learnt nothing new.

Actually, what Medtecs didn't say was very significant.

It didn't say that the revenue/profit guidance it gave on 11 Aug 2020 in its 1H20 results statement was no longer valid.

"Looking ahead to the second half of the year, due to long-term supply contracts and a steady stream of new orders, barring unforeseen circumstances, the Group's revenue and profit is expected to

exceed that of the first half of the year

."


-- Medtecs, 11 Aug 2020.
There are just about two weeks to the close of 3Q, and Medtecs is well-positioned to know if its guidance was not going to be met.

If the 3Q performance and the 4Q prospect are looking weaker than guided, and news had leaked out, Medtecs owes the market an update -- or it would be held accountable for misleading investors.

Last Friday's query by SGX was an opportunity for Medtecs to do so, even if the query was narrowly focused on last Friday's "unusual" trading.

But Medtecs didn't have any material negative news to release, let alone, sorry, we were too bullish back in August on our business.

So ... all must be good still!

Actually, there is just no chance that Medtecs' personal protective equipment business in 2H 2020 risk becoming a disappointing mirage.

The Covid pandemic has continued to rage in many areas of the globe, especially where Medtecs supplies to -- Europe and the US (where Trump has shockingly claimed the virus was "at some point" going to "sort of just disappear, I hope.")

And health authorities are bracing for another spike of Covid-19 cases as winter comes around.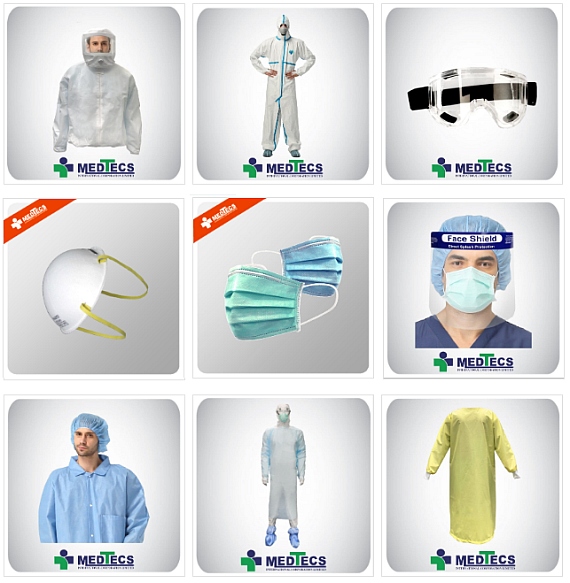 Medtecs is an original product manufacturer (OPM) of a wide range of medical consumables, hospitality and work wear apparels for large multinational healthcare distributors, pharmaceutical companies, hospital groups and other institutional customers in the U.S., Europe and Asia Pacific. Major product lines manufactured by the group include linens, hospital apparels, hospitality apparels, work wear apparels, bandages and face masks. The group's OPM operations, which is part of its core business, are supported by 10 manufacturing facilities strategically located in low-cost center—four in the Philippines, four in China, and one each in Cambodia and Taiwan.. Photo: Company

Ok, going back to Medtecs' guidance, we can take the base case of 2H profit being equal to (instead of exceeding, as guided) 1H profit. Then we have:

1Q20
(Actual)

2Q20
(Actual)


2H20
(Assumed)

US$3.7 m

US$35 m

US$39 m
.... a full-year harvest of US$78 million.

In SGD terms, it is S$108 million, at the very minimum for full year 2020. (That would be about 60X the S$1.7 million achieved in 2019)

That supernormal profit means FY20 PE works out to be 5 based on the last traded share price of S$1.07.

More likely, the profit will be even more supernormal, assuming higher selling prices in 3Q and 4Q (vis-a-vis 2Q) on unabated demand.

There are several articles (and many social media posts) exploring the potential profit already, so check them out:


Still, what explains the stock slide of the past 4 weeks?

• A not uncommon speculation seen on online forums is that the slide has been supercharged by shortists.

• It also feels like there are other bad actors, including pseudo-advisors who confuse the stock's valuation with its 30x price surge year-to-date.

• Selling pressure surely also came from those who took profit, or sold because they were alarmed by the unexpected price downtrend, or had no holding power, or had no real idea about Medtecs' business fundamentals and was in for a quick trade, etc.

• And the list goes on: Lack of analyst coverage, impending vaccine, etc.

Friday, 18 Sept 2020

Trading range

Closing price

Volume

S'pore

S$1.02 - 1.22

S$1.07

33.7 million

Taiwan

NT$55.40 - 59.50
(S$2.60 - 2.80)

NT$55.40
(S$2.60)

35.5 million

Source: Yahoo!
How to explain why, on the Taiwan Stock Exchange, there's consistently a tonne of positivity towards the TDR of Medtecs which, is a Taiwanese company with its HQ in Taiwan?

We are not talking about a small premium that a whole bunch of Taiwan investors every day are willing to cough up.

Currently they are paying the equivalent of S$2.60 for the same Medtecs equity that can only fetch S$1.07 on the Singapore Exchange.