Just hours before AEM Holdings released its 2Q2020 results on Monday, 3 Aug, its stock price ended trading for the day at $3.66.

With that, AEM's market value jumped over the $1 billion level, and has not looked back since.

This is remarkable because just four years ago AEM was valued at a paltry $22 million.

Few investors recall it was that tiny then, so here's a chart ....



Adjusted for two bonus issues in 2017 and 2018, the stock price back in Aug 2016 was 8 cents.

And you will blink several times after punching the numbers into the calculator: It's a 45X gain.

A week on, and the stock has gone up to $4.22. That makes it a 53X gain!
Theoretically, without the bonus issues (1-for-2 and 3-for-1), AEM's latest stock price of $4.22 is equivalent to $25.32.


Period

Dividends
($'000)

2H2020*

13,715

1H2020

8,508

2019

10,533

2018

8,372

2017

4,468

Total

45,596

* Interim FY2020 dividend to be paid on 11 Sept 2020.

Source: Company presentation
The massive capital gain is not the full story: Look at the dividends paid to AEM shareholders in the past four years (see table).

Dividends already paid totalled $31.9 million, and there's another $13.7 million (interim FY2020 dividend) declared and to be paid on 11 Sept 2020.

So, many long-time holders of the stock have recouped every cent, maybe more, they put into the stock.

The dividends point to AEM being able to generate tremendous free cashflow on low capex (2020: S$4 million).

How has all this come about?

AEM built one single great product and manufactured many of it over the years for just one single customer. It also sold consumables and support services, of course.

How cool is that?

AEM's then CEO, Charles Cher, may have seemed to be overhyping things in front of a roomful of sceptical investors when he said the equipment "is state-of-the-art technology, and like nothing that I've ever seen in my 25 years in the industry."

It was difficult to appreciate because it was utterly unfamiliar to most outsiders.

The equipment does advanced backend testing of chips at Intel Corp, the world's largest semiconductor company.

AEM's ramp-up in equipment production for Intel started in late 2016, a transformative journey that took off in 2011 when private equity firm Novo Tellus (headed by Loke Wai San) parachuted in.

Here's a simple description of the works.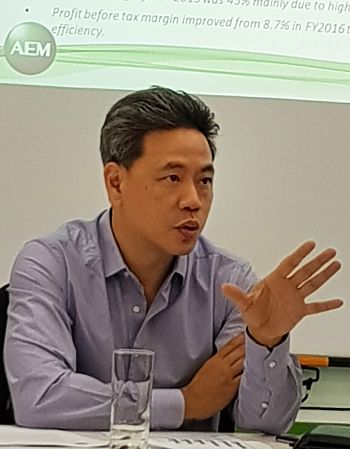 "AEM is definitely on the right track – we've created a R&D and innovation-driven company that's also customer-centric.
"We're not into R&D for R&D's sake, but focused on applications development, which means we offer a very large toolbox to our clients, customising a wide range of solutions for their needs."
-- Executive chairman Loke Wai San
(Interview in July 2020)
To start with, all semiconductor chips are tested electrically before they are assembled into electronic devices such as computers, mobile phones and refrigerators.

Instead of testing one chip at a time with a single equipment, AEM's new platform has 30 testers.

Instead of being tested in three stages -- burn-in test, class test, system level test -- by three different types of equipment, the chips can be tested on one platform.

Instead of different machines for testing chips for use in different types of products, AEM's platform can handle them all.

To test chips, the AEM machines can simulate extreme cold, extreme heat and ambient temperatures.

The upshot of all this is, testing costs for Intel became a fraction of what it used to be.


In continuing its journey, AEM is developing the next generation of equipment, whose production is expected to ramp up in 2021 for (who else?) Intel, targeting chips for new areas of its business.

And it continues to expand its capabilities and, notably, reach out to potential new customers.

To that end, in the last 3 years, AEM has acquired 5 start-ups in various parts of the world.



And in recent times

it has brought on board at the senior management level, in particular, a host of top talents.

It's all set for long-term performance in an industry where big winners are always on the offensive, not defensive, and they strive to stay ahead of the curve.


"I can tell you, we are working on it. It takes time. It's a competitve environment. That's all I can say, but we are not sitting on our hands waiting for the next customer to fall onto our laps."
Where industry changes are rapid and competition is global, can

AEM repeat its extreme success of the last four years?

Will AEM show it can seize huge opportunities for advanced testing of more complex chips? This is crucial in mission-critical applications for 5G, Artificial Intelligence and advanced computing.

Will a fuel additive branded Temasek boost the AEM rocketship? Will a dual listing on Nasdaq help? Maybe and maybe not.

Questions like this are asked by investors keen to see AEM succeed further (plus garner a richer valuation compared to 10X PE currently).

What about the next big customer? (Now, that's a sure way to a richer valuation)

To that question at last week's results briefing, AEM's executive chairman Loke Wai San replied: "I can tell you, we are working on it. It takes time. It's a competitve environment. That's all I can say, but we are not sitting on our hands waiting for the next customer to fall onto our laps."