The share price of ISDN Holdings rose as much as 18%, or 4.5 cents, in morning trade to hit 29 cents after the company issued a positive profit guidance for 1H2020.


Stock price

28 c

52-week range

13.4 – 29 c

PE (ttm)

16.5

Market cap

S$120 m

Shares outstanding

429.6 m

Dividend
yield (ttm)

1.8%

One-year return

-4%

Source: Yahoo!
ISDN said it expected to record an increase in net profit attributable to owners of more than 50% y-o-y.

That means, the profit would be in excess of S$8.3 million (1H2019: S$5.6 million).

The Singapore- and HK-listed industrial automation firm said the increase is driven by:

• Strong growth in its core business order book;

• Growth in construction revenue from ISDN's energy business as it makes further commercial progress on its mini-hydropower plants; and

• Gains from a reduction of operating expenses on cost efficiency initiatives in 1H2020.

Investors could have picked up signals of a strong 1H2020 performance after it released its 1Q2020 results on 27 May 2020.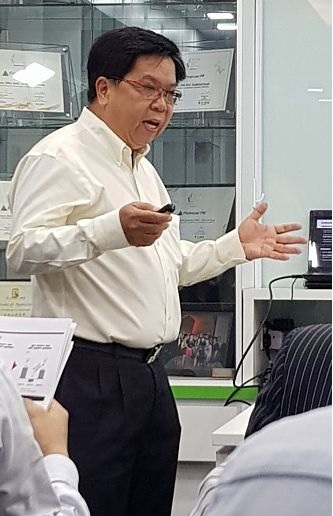 ISDN President Teo Cher Koon.
NextInsight file photoIts 1Q20 net profit fell 26% y-o-y but net profit in the first four months of this yearsurged 31% y-o-y to S$6.7 million.

A lockdown period in China badly crimped ISDN Holdings' business in 1Q.

Its China business started recovering from mid-March when it resumed operations and saw a surge in orders amounting to S$95 million as of the May 2020 business update.

With a bulging order book, ISDN said it recorded a strong rebound in performance in April, with the pickup happening across its key markets of Singapore, PRC and Vietnam.

Some of the improved performance may be credited to its substantial shareholder, Novo Tellus, a private equity investor which had a strategic hand in transforming AEM Holdings into a superstar performer.

As ISDN's 2019 annual report states:

"In 2019, we embarked on a business transformation strategy with seasoned technology-focused Southeast Asian private equity investor Novo Tellus Capital Partners to launch major initiatives targeted at improving operating efficiency, upgrading operating capabilities, and moving up the value chain."

CGS-CIMB has a 28-cent target for ISDN's stock. See: Reiterate Add with higher TP of 28 cents