Excerpts from CGS-CIMB report

Analyst: William Tng, CFA
Strong April rebound


■ 1Q20 revenue/net profit accounted for 27%/37% of our full-year forecasts,above our expectations.


ISDN

Share price:
24 c

Target:
28 c
■ As at end-Apr 20, ISDN has achieved 80.4% of our FY20F net profit.

■ Reiterate Add with higher TP of S$0.28.

1Q20 performance above expectations
On 27 May, ISDN provided a voluntary update on its performance. 1Q20 revenue/net profit of S$79.8m/S$3.1m were above our expectations.

1Q20 revenue (27% of our FY20F) grew 5.7% yoy despite disruptions from the Covid-19 outbreak which led to an extended lockdown period for ISDN's China operations.

Net profit (37% of our FY20F) fell 26.2% yoy. Other than revenue and net profit, no other line items for the income statement were provided.


Strong recovery in April
By mid-Mar, ISDN had resumed its China operations.

In 4M20, ISDN's revenue grew12.1% yoy to S$112.2 while net profit grew 31.4% yoy to S$6.7m. For the month of Apr, ISDN generated revenue of S$32.4m and net profit of $3.6m.

The recovery was due to a broad-based pickup in business in ISDN's key markets of Singapore, China and Vietnam.

4M20 net profit accounted for 80.4% of our FY20F net profit.

The company also disclosed that orders received year-to-date amounted to S$95m.

Introducing anti-Covid-19 products
ISDN recently partnered with Germany-based ERST Project GmbH to introduce two disinfectant technologies designed to aid the transition to a post-pandemic environment.

These are

a) Waterliq, a safe, water-based disinfectant capable of deployment throughhumidifiers in human-safe fine droplets, and is able to kill 99.99% of pathogens; and

b) Erstotizer, a state-of-the-art disinfecting coating that can keep surfaces virus-free for 6-24 months.

Since announcing these two products, ISDN has already secured two commercial deployments, one at major dormitory provider Centurion Corporation and another at First Sight International Pte Ltd, an interior designer.

Reiterate Add; higher S$0.28 TP
Given the lack of detailed financials, we assume gross margin improvement as the primary reason for the better-than-expected 1Q20 performance.


49% jump in FY20 forecast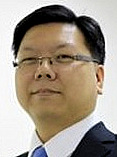 "With our revised gross margin expectations, our FY20-22F net profit forecasts increase by 49.2%/20.1%/11.3%.

"At an unchanged CY21F P/E of 10x (c.57% discount to its global peers), our target price rises to S$0.28 (S$0.23 previously)."
-- William Tng, CFA (photo),
CGS-CIMB analyst
Potential re-rating catalysts for the stock could come from stronger-than-expected sales orders for its mainstay motion-control business and profit contribution from its clean energy segment.

Key downside risks are order delays, cost overruns in its energy business, further escalation in the US-China trade war, and worsening of the Covid-19 outbreak.

Full report here.