While most businesses are reeling from economic lockdowns, AEM Holdings continues its winning streak, announcing that its orderbook for delivery this year has reached S$416 million.



A rising orderbook as the year progresses was a strong feature of AEM in 2016, 2017, 2018 and 2019 (see chart).This is 23% higher than the S$338 million figure announced in Feb 2020.

With the latest update, AEM has raised its revenue guidance for 2020 from S$360-380 million to S$430 - S$445 million.

That would mean yet another record performance for the company, which counts Intel Corp as its key customer who accounts for more than 90% of its revenue.


AEM describes itself as a "global leader offering application specific intelligent system test and handling solutions for semiconductor and electronics companies serving advanced computing, 5G and AI markets."

AEM, which owns the IP for its testing platform, has become the sole source -- a status that is practically unheard of in global manufacturing -- of such equipment for Intel.

The supplier-client relationship is now into its 19th year.


Stock price

$2.58

52-week range

83 c – $2.64

Market cap

S$706 m

PE

8.5x

Dividend yield

1.8%

1-year return

146%

Shares outstanding

273.7 m

Source: Bloomberg
The latest jump in AEM's orderbook raises prospects for higher profits on expanded profit margins because, as 1Q2020 showed, AEM's cost base does not expand much and it has new sources of lower-priced parts in Malaysia.

AEM reported 1Q20 record sales and net profit of S$147m and S$36m, respectively.

If AEM clinches further orders for delivery this year, and if its 1Q20 net margin of 25% can be approximated for the whole year, then its net profit would be in excess of S$100 million (FY19: $52.8 million).

FY19 net margin was 16.3% while FY18, 12.8%.

And notably, AEM has just maintained that its capex for 2020 will be unchanged at $4 million (FY19: $3.2 million). That implies that the 2020 free cash flow will be sizeable.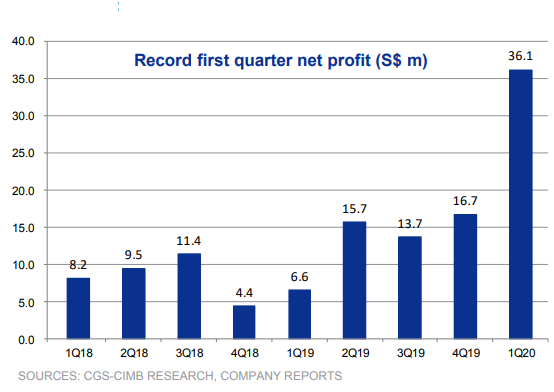 "Our business is on a solid foundation"
HDMT (high density modular test) platform is in full commercial deployment
• The shift to telecommuting, work-from-home and virtual learning has created an increase in demand for semiconductor chips for servers, PCs and notebooks



• Continue to see strong orders and requirement for handlers and their consumables





• Ongoing development programs with key customer for hybrid solutions with potential orders in 2020 and beyond



Source: AEM 1Q2020 corporate presentation