Following a RMB50 million (S$9.7 million) contract win in Dec 2019, Chasen Holdings said it has secured several more contracts worth a total of S$12.52 million, which would run for between six months and two years.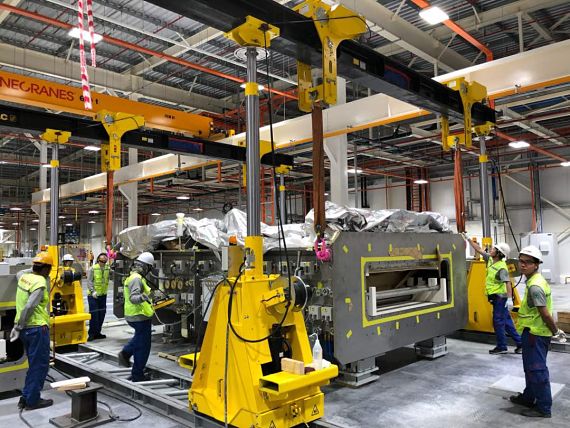 Chasen workers relocating sophisticated machinery. This requires state-of-the-art material handling equipment and specialised worker skills. Photo: Company

It said the contracts are expected to have a positive impact mainly in the financial year ending 31 March 2021 and FY2022.

The contracts are:

• Specialist Relocation – approximately S$5.98 million in total consisting of:

a) Move-in services for an 11th Generation TFT LCD plant in Shenzhen, PRC; and
b) Move-in services for a few U.S. and German electronics and semi-conductor manufacturing MNCs in Penang, Malaysia.
• Third Party Logistics – approximately S$6.54 million in total consisting of crossborder land and ocean freight services spanning Malaysia, Thailand and Vietnam.
Stock price

6.8 c

52-week
range

6.4 – 10.5c

PE (ttm)

8.5

Market cap

S$26 m

Price-to- book

0.38

Dividend
yield

10%

1-year return

-8%

Source: Yahoo!
The Group shall be completing the acquisition of its Bangalore incorporated subsidiary, Chasen (India) Hi-Tech Logistics Services Private Limited for its Specialist Relocation business segment.

This is in anticipation of Chinese electronic manufacturers expanding their operations to meet increasing demand for consumer electronics in the Indian market.

Chasen said it is optimistic that with the Group's proven track record and leading position in this niche logistics sector, it is well-positioned to capture a significant share of the growing specialist relocation market in the sub-continent.

Regarding the Covid-19 situation, Chasen said it has Standard Operating Procedures (SOPs) in place and established Business Continuity Plans (BCPs).

Most workers of the Group's PRC subsidiaries have returned to work following the extended Chinese New Year spring break.

Relocation operations at its customers' production plant sites to fulfil its project contractual obligations will resume pending certification by the relevant local authorities at each site.

Similarly, factory production at its contract manufacturing subsidiary is also dependent upon work resumption by its subcontractors in order to deliver the required components.

Additionally, the Group is implementing cost-cutting measures to mitigate negative impact to its business in the PRC and elsewhere, including Singapore, where the government's recently announced budget measures would be helpful.

Note: In Nov 2019, Chasen said in its 2QFY2020 financial results announcement that it "has commenced preparation for the listing of its PRC operations on a regional stock exchange."