Excerpts from DBS report

Analyst: Lee Keng LING


Racing for green
Green investment plant ramp up to drive growth
Sunpower's GI plants have ramped up successfully, with GI operating cash flow rising by c.19% y-o-y to RMB252m.


Sunpower

Share price:
52 c

Target:
84 c
GI operating margin also improved by 1.6ppt.

With the Shantou and Xintai Zhengda projects starting to ramp up in FY20F and FY21F, a further 1,080t/h of active steam capacity, representing c.50% of FY21F total active steam capacity, is expected to come online soon.

This combined with the steady closure of small boilers and shifting of businesses to industrial parks will drive a 27.2% growth in GI operating profit for FY20F.

In line with its target of having RMB2.5bn in GI equity investments by FY21, Sunpower recently announced its plans to invest in the Tongshan Project in Xuzhou City.

We estimate that Phase 1 of the project will start operating within two years with the cost of Phase 2 set to be cheaper than Phase 1.

Margin improvement in traditional manufacturing and services (M&S) driven by operational improvements. Sunpower's M&S factory is operating at close to full utilisation on an order book of RMB2.5bn.

The group is in a good position to cherry pick higher margin projects while keeping its orderbook steady.

Where we differ: We have assumed lower impact of COVID-19 on Yongxing and Xinyuan plant as a significant portion of their capacity is used for heating purposes and less linked to industrial activity.

Potential catalyst: Resolution of COVID-19 situation in China, new GI plant development or acquisition.


Valuation: Maintain BUY with DCF-based TP of S$0.84. Our TP is raised to S$0.84 as we revised our earnings higher to reflect faster ramp up of GI projects.

Our valuation excludes a potential RMB2.0bn in GI projects that Sunpower is expected to invest in by FY21F.

Key Risks to Our View: Unfavourable changes in the regulatory environment; steep rise in coal prices; worsening of COVID-19 outbreak
FY20/21F profit revised up by 10%, 29%
FY20F and FY21F net profit revised up by 10% and 29% respectively to account for faster ramp up in GI projects.
We had previously assumed later completions and ramp up of GI plants in Shantou and Xintai Zhengda.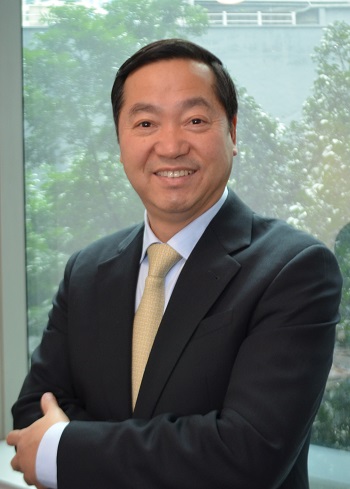 Executive chairman Guo Hong Xin.
NextInsight file photoTogether, these projects have an active steam capacity of 1,080t/h representing c.50% of FY21F active steam capacity.

As a result of this assumption, our previous GI operating margins were more conservative at 25.5% for FY21F.

With the Shantou and Xintai Zhengda projects looking to ramp up soon and the achievement of a 28.2% GI operating margin for FY19, we believe these projects will see higher capacity utilisation than previously forecasted with GI operating margins to maintain at 28.2% for FY20F and FY21F.

Additionally, we have factored in the new development of the Tongshan Project with the assumption of it beginning operations towards the end of FY21F.

Overall, these changes led to our revision in net profit by 10% and 29% for FY20F and FY21F.

Following Sunpower's beat in FY19 underlying profit guidance of c.RMB300m by c.17%, we believe that Sunpower is on track to meet its convertible bond targets and raise our TP to S$0.84 (previously S$0.81).

Full report here.