AEM Holdings, whose stock price is up about 11X over the past three years (ie end-Feb 2017 till date), is at the cutting edge of its niche industry so much so that it has to engage a research firm to project the future of the market globally.
This implies that no such targeted research, or updated research, has ever been done by any player.
Last week, at its FY19 results briefing, AEM shared a key finding from the research it commissioned: The total addressable market of System Level Test equipment and consumables is expected to grow from US$1.2B in 2019 to US$3.2B in 2024.
That's a robust CAGR of 21.6% over the next five years, according to American research firm VLSIresearch.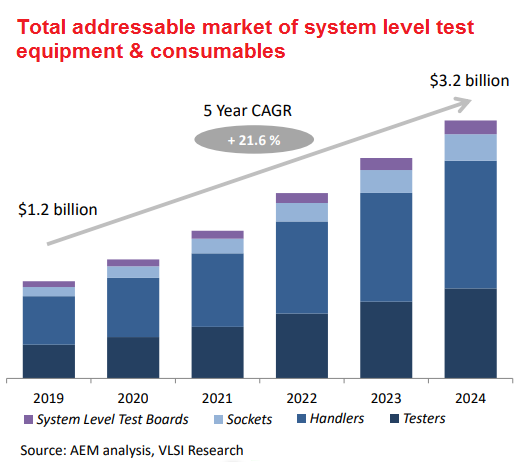 The research report gives a breakdown of the various technologies that AEM possesses and the value of their addressable markets.
(See Page 12 of the AEM FY19 results Powerpoint presentation here.)
AEM's expertise in this area is reflected in its swelling test-handler offerings (and related consumables) to its key customer, Intel Corp.

For FY2019, AEM reported:

• Net profit of $52.8 million, a record high, up 57.5% y-o-y.



•

Revenue of

$323.1 million, also a record, up

23.2%

y-o-y

.
Notably, its revenue guidance for this year is S$360 million - S$380 million. The guidance is made possible because AEM has just one key customer (accounting for roughly 90% of revenue), who gives advance orders.

The revenue guidance is not only achievable but is expected to be surpassed (see analyst forecasts in table below):

1) Best reason: AEM already has in hand $338 million of orders for delivery in 2020.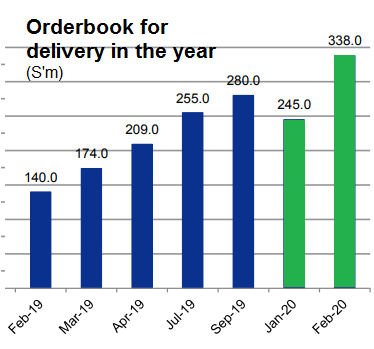 Table shows AEM's updated orderbook for the respective years (2019, 2020). It rises and rises as the year progresses.2) Management said it is confident of delivering on those orders.

3) Pattern repeats: In 2016, 2017, 2018 and 2019, AEM updated its orderbook dramatically as the year progressed.

The chart shows that the orderbook for delivery in 2019 doubled between Feb and Sept.

And AEM closed the year 2019 with another $50 million of sales for a total of $323 million. What a big upward swing from the orderbook of $140 million at the start of the year!


Research house

Analyst

2020 Forecast Revenue

2020 Forecast Net Profit

Target stock price

Maybank KE

Gene Lih Lai, CFA

$369 m

$59 m

$2.82

DBS

Lee Keng LING

$378 m

$61.6 m

$2.52

KGI

Kenny Tan Jiunn Chyuan

$380 m

$59.4 m

$2.60

CGS-CIMB

William Tng, CFA

$400 m

$61.6 m

$2.71

NextInsight compilation.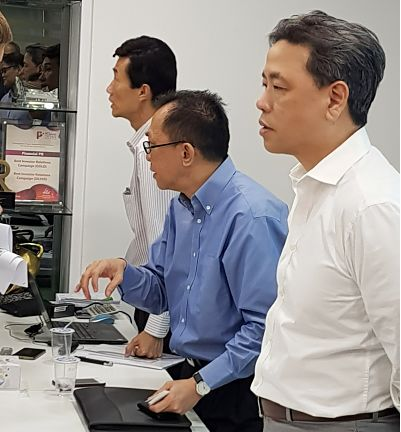 L-R: CFO Soh Wai Kong | CEO Chok Yean Hung | Executive chairman Loke Wai San.
NextInsight file photo.The advent of system level tests has been necessarily brought about because of the complexities of chips used in advanced technology such as 5G, IoT, Artificial Intelligence, and quantum computing.

"The wheels are starting to turn and it's a trend we are sanguine about," said Executive Chairman Loke Wai San.

"System level tests are just coming to the fore and we have years of experience developing testing systems for one of the world's most demanding customers."


Stock price

$2.13

52-week range

83 c – $2.30

Market cap

S$579 m

PE (ttm)

10.9x

Dividend yield

2.4%

Year-to-date
return

101%

Shares outstanding

271.6 m

Source: Bloomberg
These tests ensure that chips are rigorously tested in conditions that simulate devices they are to be embedded in alongside other chips and software, instead of just their robustness and functionality as standalone chips.

Chipmakers reportedly view system level tests as essential to avoid large liabilities as a result of product failure.