Excerpts from RHB report

Analyst: Jarick Seet


• Survived the worst; turnaround imminent. We met up with management of Marco Polo Marine and discovered that this net cash company, which survived the oil price crash years ago, may be on the verge of a comeback to profitability.

It returned to EBITDA positive in FY19, after a debt restructuring exercise in Feb 2018, resulting in a clean balance sheet.

A continued pick-up in the ship chartering and ship repair/building businesses should give it a good chance to see a profit this year.



• Oil & gas activities picking up after a hiatus (since the oil price crash). With oil prices on an uptrend since the crash in 2014, activities across the whole oil & gas chain have been steadily recovering, as seen across many of the company's listed peers.

Revenue from its ship chartering operations grew 44% YoY in FY19 due to higher utilisation of its fleet of offshore vessels.

We understand that this trend is likely to continue despite an increase in the number of its fleet from five (FY19) to eight currently.

There are also two vessels left to be reinstated/upgraded, which should further boost profitability of its ship chartering business.

Its shipbuilding and repair operations' revenue recorded a slight decline of 10% mainly due to the absence of shipbuilding jobs.

However, with the uplift of oil & gas activities as witnessed by many of its peers, there is a good probability that the company can start to win shipbuilding tenders this year – it has already participated aggressively in some of these tenders.

• Trading below massively impaired NAV and white knights' and creditors' entry price. The net asset value (NAV) per share was 3.1 SG cents as at 30 Sep 2019, which was massively discounted after its debt restructuring exercise, which was determined previously when rock bottom prices were reached during the trough of the crisis.

The white knights entered at an effective price of 3.2-3.3 SG cents (if performance shares were all awarded to the company's chief executive Sean Lee) during its latest debt restructuring exercise.


White knights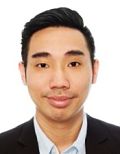 "With credible backers' consisting of the founders behind Super Group, Soilbuild Group, Goldbell, Oxley (OHL SP, BUY, TP: SGD0.43), Yanlord Vibrant Group and Penguin International are among the white knights, we feel that the company is the one to look out for in the revival of the oil & gas industry, particularly in the small-cap space."

-- Jarick Seet (photo)
Analyst, RHB Research
At its current share price levels, it is still way below the levels of the white knights' as well as the company's NAV.

Many of its listed local peers are also trading above their NAV after a rerating across the small caps oil & gas' stocks following POSH's general offer.

• Operating EBITDA positive in FY19, targeting PATMI positive in FY20F. The group saw a reversal from a loss of SGD3.9m in FY18 to a positive EBITDA of SGD2.4m in FY19.

With a brighter outlook ahead, a return to profitability in FY20F is highly possible, which is a massive coup seeing that Marco Polo Marine almost went bust in 2017.

• Key risks to our call: economic slowdown and oil price crash.


Full report here.