The year was 2012, and Sudeep Nair, who had played a key role in building up the Russian market for Food Empire, was appointed CEO of the group.



Casting his attention on the Vietnam market, he knew Food Empire had to make a decision on whether to stay or quit after losing money there for several years.

Sudeep had a good mind to shut down its factory and pull out of the market, even though he recognised its vast population (about 90 million then) as holding vast potential for

Singapore-listed Food Empir

e.

The Vietnamese team, in the meantime, was formulating a product which seemed to fill a market gap --

3-in-1 instant coffee promoted as a drink best enjoyed cold with ice cubes

.

And it turned in positive reviews in blind-taste tests.

Sudeep, somewhat in a dilemma, told his team: "This is our last chance."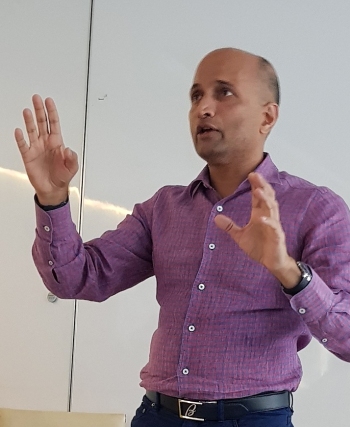 "In our industry, you see who is the leader and you sell for 10% cheaper. I said no, there's no point in that. We will lose money (on Cafe Pho) and we have borne enough losses and we will have to cut out Vietnam."

- CEO Sudeep Nair on how Café Pho, as a new product, was a make-or-break decision for Food Empire's continued presence in Vietnam
(NextInsight photo)
The troubling question was: How to price it in a highly competitive but massive market where, despite the strong local drinking culture, several regional brands have tried to make inroads and failed?

The team's proposal was for mass-market pricing with a name (Pho is a Vietnamese noodle soup) that Vietnamese could relate to instead of Food Empire's foreign-sounding MacCoffee brand which Vietnamese had not warmed up to in previous products.

Because that pricing meant continued losses for quite a while, Sudeep said no, further bleeding was untenable.

If Cafe Pho was a high-quality product with a good chance of success, it had to be priced at a premium, and it had to contribute profits as soon as possible.

So, Cafe Pho went to market in 2013 priced above rival products, even Nescafe, and it never looked back.

Competitors came out with products at lower prices to stop Cafe Pho's progress but Cafe Pho continued to soar over the years (see chart below).

That was a slice of history that Sudeep shared with Singapore investors and analysts during our trip to Ho Chi Minh City last week.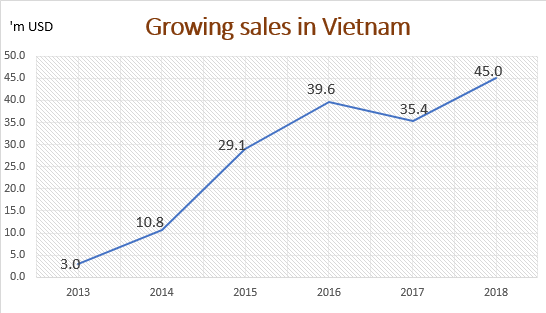 Soaring 15X in 5 years: At US$45 million, Vietnam accounted for 16% of Food Empire's total revenue of US$284.3 million in 2018. Vietnam became Food Empire's second largest market after Russia with Ukraine being No.3.
Data: Food Empire

Food Empire, with a winning product, sought to replicate in Vietnam the distribution model it had built in Russia (then its No.1 market) and Ukraine.

Now, Food Empire sells wholesale to 135 distributors, who act as stockists. Food Empire employs about 540 sales representatives who collect stock from the distributors and deliver directly to over 100,000 retail outlets.

On average, a salesman services 185 outlets.

Visibility to consumers -- this is a key objective of the salesmen who not only take the goods from the distributors to sundry shops and collect cash payments, but also coax shop owners to display prominently Food Empire products using hangers given to them.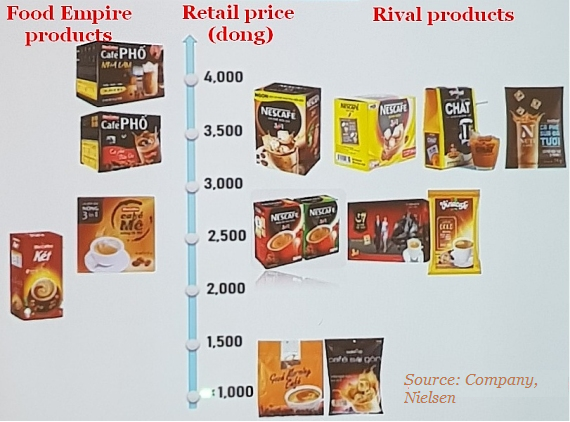 Given the distribution network, and the nice profit margins, it has become easier for Food Empire to scale up its business in Vietnam with new products.

They are: Café Me (hot coffee mix), Café Ket (mass market 3-in-1), Café Pho Nha Lam (a 3-in-1 product priced even higher than Cafe Pho), and Café Pho Den Da (2-in-1).

And there's also energy drinks, as we learnt on our visit.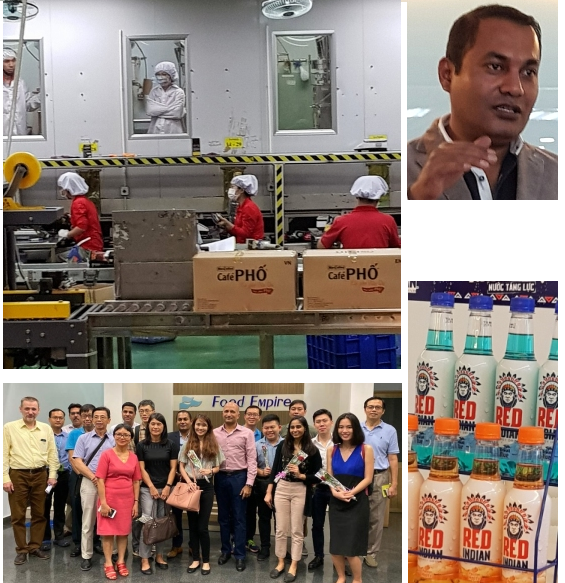 Clockwise from top left: Food Empire factory in Ho Chi Minh produces 78,000 cartons a month, running 24 hours, 6 days a week| Satya Sutar, Food Empire's No.1 man in Vietnam | Energy drinks, new products for Viet market | Singapore investors, analysts with Food Empire management.

See also RHB analyst Juliana Cai's report here.