Gold prices rose following the US killing of a top Iranian general on Thursday which created geopolitical tension and triggered Iran's warnings of severe retaliatory action.

Gold closed at US$1,552.24 per oz (+US$27.74, +1.82%).

In fact, gold prices have been sustained at elevated levels in 2H2019.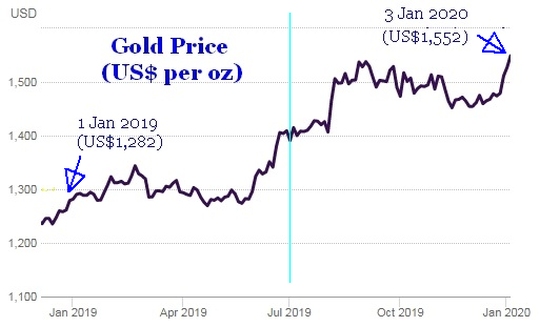 Uptrend of gold price has been sustained since July 2019.
Main chart: goldprice.org
Beyond the near term upside from the Iran shooting, the outlook for gold price this year is very positive, according to a Kitco News survey which asked Main Street investors where they see prices ending the year.

("Main Street" refers to US local businesses, consumers, and financial services firms, and the polar opposite is Wall Street which represents big financial firms and global corporations.)

The results show that only a handful of investors see any downside in gold in 2020.

A total of 1,749 people participated in Kitco News's outlook survey and 80% of participants said they see gold prices ending the year at least above US$1,600 an ounce.

One-quarter, or 439 Main Street participants, were extremely bullish on gold, saying that they expect the yellow metal to push above US$2,000 an ounce by this time next year.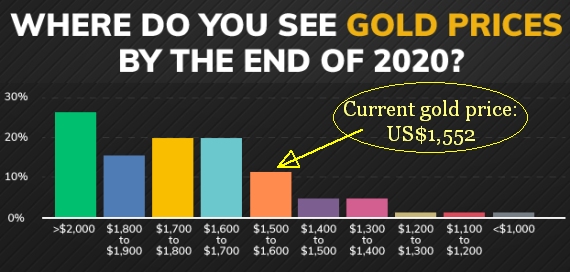 Main chart: Kitco News


On the Singapore Exchange, CNMC Goldmine is the gold producer of note in terms of revenue and profitability. (The other gold plays are LionGold, Anchor Resources and Wilton Resources)

CNMC, which has been profitable every year since 2012, had initiatives to boost production from its concession in the Malaysian state of Kelantan in 2019 and 2020:


•1

Its carbon-in-leach (CIL) plant for processing high-grade ore began commercial operation in May 2018, so 2019 was its first full-year of contribution.

The CIL plant enabled CNMC to achieve its highest annual revenue of US$39.5 million in 2018.

CNMC expects to achieve a new record for revenue for 2019, according to its 9M19 results presentation slides.


CNMC stock price

27.5 c

52-week range

20 – 33 c

Market cap

S$112 m

PE (ttm)

15x

Dividend yield (ttm)

0.73%

Year-to-date
return

22%

Shares outstanding

408 m

Source: Bloomberg
As of 9M2019, revenue had reached US$31.5 million with net profit of US$4.2 million.

•2 Its second leaching pad for processing low-grade ore was ready in 4Q2019.



•3

CNMC expects to extract high-grade ore through underground mining for the first time in its concession from 1Q2020, according to its 9M2019 results announcement.

For more, see CNMC GOLDMINE: 10 Questions & Answers