KGI Singapore Outlook 2020

Our key themes for 2020 will be:
1) Environmental, Social & Governance (ESG);
2) Technology, with a focus on Semiconductors; and
3) Emerging Asian Markets, especially China.

- Among our top picks for ESG is Sunpower Group (SPWG SP), where we have an Outperform recommendation and target price of S$0.91.

- In technology, our Taiwan colleagues are upbeat on Semiconductor companies. These companies are forming the foundation for the key trends in AI, IoT and Big Data.

Our top pick in this space is AEM Holdings (AEM SP).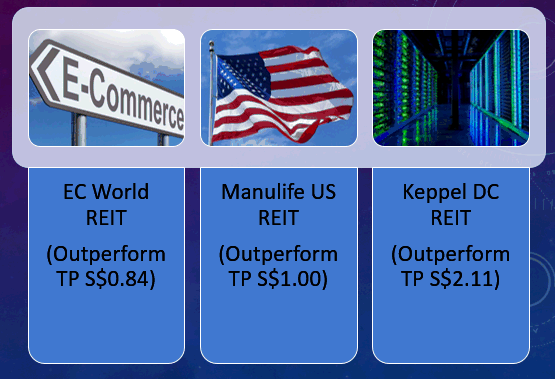 - We do not think the outperformance of REITs, which was driven mainly by yield compression in 2019, will continue in 2020.

Therefore, investors will have to be more selective in the REITs space.

Among our picks are EC World REIT (ECWREIT SP), Manulife US REIT (MUST SP) and Keppel DC REIT (KDCREIT SP).