Excerpts from KGI Securities report

Analyst: Chen Guangzhi, CFA


Sunpower

Share price:
55 c

Target:
91 c
• We initiate on Sunpower Group (Sunpower) with an OUTPERFORM rating.

Our fully diluted target price is S$0.91 based on SOTP valuation of its two major businesses (using DCF for GI and PE for M&S).

GI's "Combined Heat and Power" (CHP) plants have a bright future in China's fight to clean up the air. Sunpower's environmentally-friendly CHP plants in its growth driver and value creator GI segment can help reduce the number of small-scale environmentally hazardous plants run by industries to generate steam or power.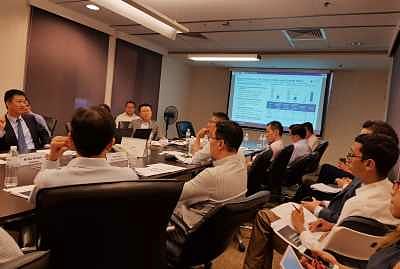 Sunpower's quarterly results briefings are well-attended. NextInsight file photoBy centralising the supply of steam and power in the hands of environmentally friendly operators, the indiscriminate burning of coal that has been identified as one of the major sources of air pollution in China can be reduced, translating into a marked improvement in air quality.

Favourable environmental policies driving GI business growth for Sunpower. Supportive government policies have enabled Sunpower to tap into enormous opportunities to grow GI.

In 2013-2018, the government increasingly started to mandatorily shut down small-scale, dirty coal-fired plants used by industries and forced them to switch to centralised, clean providers in three key areas of China.

This initiative has now been expanded to the entire country, boding well for Sunpower as the accessible market that it can tap to expand the GI project portfolio is now many times larger than before.

With 8 plants in operation and a target to make equity investments of RMB 2.5 billion by 2021, Sunpower is expected to benefit from its early mover advantage to secure projects at attractive returns.

Strong growth expected from Sunpower's Green Investment (GI), with its Manufacturing & Services (M&S) segment providing synergy. The GI segment is expected to see strong organic and inorganic growth in the near term as the overall designed heating capacity of the project portfolio is forecasted to surge by 58% YoY from 11.0 million tons in 2019 to 17.4 million tons in 2020.

Meanwhile, its stable and resilient M&S segment is expected to be able to provide energy-efficient upgrades and cutting-edge solutions to the plants acquired or invested by the GI segment in order to improve margins and drive higher returns.

Sunpower's GI projects generate high-quality cash flow with attractive double digit IRR. Within two years of its first GI project commencing operations, GI has grown to almost 50% of operating income and has steadily generated higher underlying operating cash flow.

GI projects are capable of producing high-quality long-term recurring cash flows because typically 30-year operating concessions and exclusive supplier status allows them to require GI customers to pay in advance.

Its overall customer base is largely diversified, supplying the resilient domestic market in China. We estimate the overall IRR of Sunpower's current GI portfolio to be 15%, based on conservative assumptions.


Valuation & Action: Using SOTP to value Sunpower and assuming its CBs and ESOS are fully converted to shares, we estimate a target price of S$0.91 after applying a 10% discount, implying an upside of 65.5% from the last closing price of S$0.55.

We therefore initiate with an OUTPERFORM recommendation.

Our SOTP valuation is derived from the sum of its two business segments:

1) Fair value of S$0.85 for GI segment based on a DCF valuation with a WACC of 6.4%.

2) Fair value of S$0.16 for M&S segment based on a PE valuation of 7x earnings (5-year average before the group initiated GI business).


Risks:
1) seasonal profit margin compression due to lagging ASP adjustment and

2) decrease in sales volume due to weak demand for steam and power if customers were to move out of the industrial parks or face other headwinds.

Full report here.