In a way, the questions posed by a few investors at the 3Q19 results briefing last week were long overdue.

They have often heard ISDN Holdings say it has over 10,000 customers.

But ISDN is not a consumer business, so is 10,000 a cumulative figure?

And if ISDN does have 10,000 current customers, does 20% of them account for 80% of the business?

And, ok, with such a large customer base, how will the company further increase its share of their wallet?

CFO Christine Ho responded, saying that the 10,000 figure is an aggregate of customers that ISDN had transacted with in any quarter or year.


ISDN stock price

22.5 c

52-week range

18.5 – 26.5 c

PE

16

Market cap

S$97 m

Shares outstanding

422 m

Dividend
yield

3.1%

One-year return

10%

Source: Yahoo!
It is a compilation of customers from all over China, mainly, and several other countries in Asia.

No single customer accounts for more than 5% of revenue.

ISDN's customers are spread over diverse industries, such as robotics, aerospace, medical, textile, marine, oil & gas.

ISDN sources for components and engineer them into solutions for the customers. (For more, see: ISDN: Catalysts include organisation streamlining, hydropower earnings).

Adding further insight, Novo Tellus principal Shawn Tan said its analysis showed that in 2017, the top 10 customers accounted for 18.7% of revenue. Some customers return for business after a few years.

Novo Tellus is a private equity firm which gained fame for its investment in AEM Holdings and helping in its massive trajectory.

Novo Tellus took an initial 6.4% stake in ISDN through a new-share placement in March 2019.

Since then, it has upped its stake through open market purchases of shares to 8.92%, or 38.3 million shares with a current market value of S$8.6 million.


No. of shares acquired by Novo Tellus PE Fund 2, L.P.

Buy date

Buy price

New Shareholding in ISDN

Stake



10,000,000

11 Sept 2019

21.61 c

38,323,401

8.92%

885,106*

27 Aug 2019

21.70 c

28,323,401

6.59%

451,000

5 July 2019

24 c

27,438,295

6.51%

26,987,295

18 Mar 2019

20 c

26,987,295

6.4%

* Shares allotted under the ISDN Scrip Dividend Scheme in lieu of cash.

Novo Tellus PE Fund 2, L.P. is the owner of 100% of the shares of NTCP, which directly owns the ISDN shares.


"Some of our due diligence was around the question, what level of trust do customers have in ISDN's engineers? We found that the kinds of applications that some customers were using ISDN technology for were cannot-fail, mission-critical ones. The trust is there."
Novo Tellus partner Keith Toh said: "When we looked at ISDN, the 10,000 figure was a positive to us because it's hard to build such a big customer base. It's even harder to build a base that trusts you.

With input from Novo Tellus, ISDN has recently embarked on several initiatives including consolidating the back-end systems of its multiple subsidiaries, sharing information across subsidiaries, and data-mining the customer base with a view to increase ISDN's sales to them.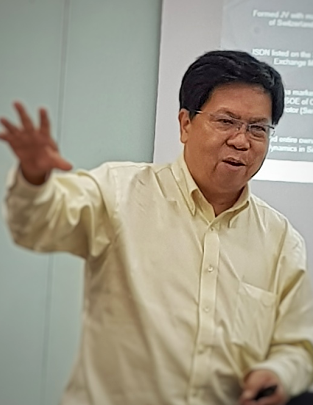 "In addition to ISDN's core engineering business, the Group has three notable hydropower investments which may be monetised at the right opportunity. Two of the abovementioned investments are nearing construction completion. A third hydropower plant is slated for construction in FY2020."

-- CK Teo,
President, ISDN
(NextInsight photo)
A key focus in the past six months has been on software that deal with industrial automation that various subdiaries have developed for customers in diverse fields.

Instead of being bottled up within subsidiaries, the software are now available across subsidiaries to be pushed out to customers who need them, noted CK Teo, the President of ISDN.

There may be similar monetisation opportunities to come for precision systems -- and other assets -- developed by various subsidiaries.


ISDN and Novo Tellus should be exchanging high fives in due course.

Challenges: ISDN's 9-month net profit attributable to shareholders was S$7.3 million, down 41% y-o-y.

This is in part due to fallout from the US-China trade war, which has dampened the investment appetite of many Chinese businesses, and made financing more difficult to raise, noted Mr Teo.

Lastly, just a note that, as the table shows, ISDN's management and a private equity investor have a lot of skin in the game. Their aggregate stake is 41%.


Insider

No. of shares held

Stake

Teo Cher Koon

136,287,480

31.73%

Novo Tellus

38,323,401

8.92%

Kong Deyang
(exec director)

2,050,000

0.48%

The 3Q19 results presentation material is here.