Excerpts from KGI Securities report

Analyst: Joel Ng
• The average dividend yield of our watchlist has risen above 5.0% once again after the recent sell-off.



•

We add Hongkong Land for its 4.1% dividend yield and its rock-bottom valuations of 0.3x P/B, while removing SIA Engineering.

Small-Mid caps.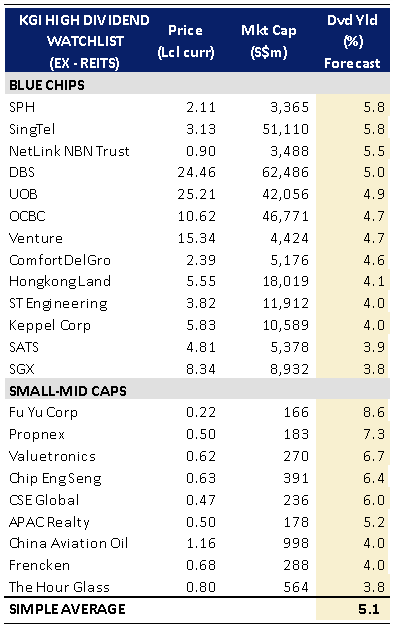 Source: Bloomberg, KGI Research.
Dividend forecast is based on consensus estimates for the companies' next financial year. There are attractive opportunities among small-mid caps but expect higher volatility in their share prices compared to blue-chips.

Consumer discretionary. We like The Hour Glass (HG) even though it currently only offers a 3.8% historical dividend yield.

We think there is upside for its yield based on improving fundamentals and strong balance sheet. It recently reported its highest annual profit in more than 20 years, trades at an attractive 8x historical P/E and is backed by net cash that makes up 30% of its market cap.

Tech-manufacturers. Fu Yu and Valuetronics stand out with their 6-8% dividend yields, among the highest in our list.

They are backed by solid balance sheets where net cash accounts for half of their current market capitalisation.

Real Estate. Property-related service companies, APAC Realty and PropNex, offer attractive dividend yields of 5-7%, in addition to undemanding valuations of 7-9x forward P/E.

For PropNex, it is Singapore's largest real estate agency in terms of agents, while net cash made up 40% of its market cap.

Oil & Gas. CSE Global offers an attractive 6.0% dividend yield and is well diversified across its businesses in Singapore, Australia, and the US.

China Aviation Oil (CAO) is a good opportunity to participate in the rapid growth of air travel in China and the region, being a key supplier of imported jet fuel in China.

Its long-term story remains intact while offering a good combination of growth and 4.0% yield.

Full report here.