It's rare for businesses to enjoy gross margins as high as 69%.


| | | |
| --- | --- | --- |
| | FY2019 | 1Q FY 2020 |
| Revenue | 29,629 | 5,841 |
| Gross profit | 13,034 | 4,010 |
| Gross profit margin | 63.2% | 68.6% |
| Profit after tax | 4,896 | 1,091 |
| Adjusted profit after tax (excl IPO expenses) | 5,759 | 2,270 |
| Adjusted profit after tax margin | 27.9% | 38.9% |
Fortress Minerals, a high-grade iron ore miner, was in that happy situation in 1QFY20 (March-May 2019).

Actually, not just in that quarter but throughout FY19

(ended Feb 2019)

it was achieving such a good result: Gross margin in 1HFY19 was 60% while in 2HFY19, 65%.

Full-year FY19 gross margin was 63.2%, marking an excellent first year of production for the young company operating in the Malaysian state of Terengganu.

In 2016, Fortress Minerals was awarded mining rights in the well-known iron ore town of Bukit Besi.

The following year, it started a JORC drilling campaign and built mine infrastructure.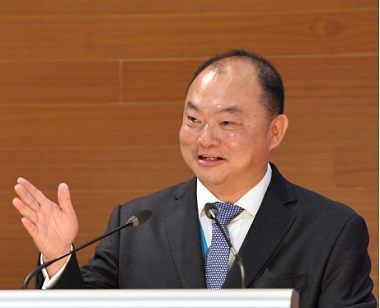 Dato Sri Ivan Chee, CEO of Fortress Minerals: His direct & deemed stake in the company amount to 50.25%. Photo: SGXFortress Minerals is a newcomer to the Singapore Exchange: It listed in March 2019, and has the distinction of being the only iron ore miner on the SGX.

Despite the surging price of iron ore (recently at a 5-year high), Fortress Minerals' stock trading volumes have been low, reflecting Singapore-based investors' unfamiliarity with its business.

Recent traded prices have hovered at 24-25 cents, which are above the IPO price of 20 cents.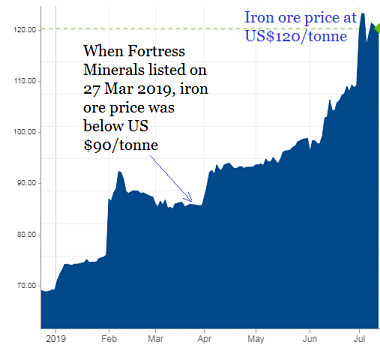 Iron ore prices have soared following severe disruptions in supply from Brazil where Vale SA, historically the industry's top exporter, suffered a deadly dam collapse in January. In Australia, miners have faced operational setbacks from weather and fire damage.What the company can be pleased about is that the timing of its going public could not have been more fortunate: It coincided with a rise and rise in iron ore prices.

If -- and this is a big if -- iron ore prices can sustainably deliver high profit margins, investors will be attracted to the stock.

Coming out on the bullish side, the Australian government, in its June quarter commentary, said it expected a continued shortfall of iron ore supply due to supply disruptions — primarily in Brazil — and robust demand from China.


"The fallout from the Brumadinho tailings dam collapse has led to a sharp drop in Brazilian iron ore exports, and this shortfall now looks set to last at least two years. The seaborne iron ore market is thus likely to stay tight, and prices elevated, out to at least 2021."

-- Mark Cully
Chief Economist
Department of Industry, Innovation and Science, Australia

Source: Resources and Energy Quarterly
It revised upward its forecasted average iron ore price in 2019 from US$67 in its previous quarterly commentary to US$80 a tonne (FOB Australia).

Fortress Minerals' 1QFY2020 (March-May 2019) net profit looked underwhelming at US$1.1 million -- but that's after deducting the final batch of IPO expenses of US$0.9 million. There was also unrealised forex loss of US$0.2 million.

The volume of high-grade iron ore concentrate (TFe grade of at least 65%) sold in 1QFY2020 was 61,386 wet metric tonnes (WMT), or an average of 20,462 WMT a month.

They were all sold to two Malaysian-based steel mills at an average selling price of US$95.16 per WMT, reflecting international prices of the Platts Index.

Check the iron ore price chart above, and you can see that heading into 2QFY2020 (June-Aug) Fortress Minerals has been enjoying even more buoyant selling prices.

The gross margin should stay strong for other reasons: For the rest of FY2020, the production volume is expected to rise, resulting in better economies of scale, owing to:

i) the absence of the annual maintenance shutdown of its processing plant (of several weeks, which took place in 1QFY2020), and

ii) an increase in "steady state production capacity" from 40,000 WMT a month to 50,000 WMT a month, arising from the installation of two additional ball mills.

(This refers to the output capacity of iron ore concentrate).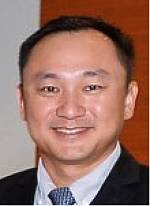 COO Ng Mun FeyWith strong cashflow, Fortress Minerals has not had to utilise its net S$12.5 million IPO proceeds so far.

Chief Operating Officer Ng Mun Fey said, at a recent investor briefing, that the company has been actively evaluating opportunities in Malaysia and Asia-Pacific for organic and inorganic growth.

In addition, it continues to drill and explore its 526.2 hectare-concession area (only 5% explored to date) in order to be able to report expanded resources next year.

For shareholders, it has paid an interim dividend of 0.16 Singapore cent a share, and will recommend a total payout of not less than 15.0% of net profit after tax for FY2020; and not less than 20.0% for FY2021.

For more info on the 1QFY20 results, see press release.