IPO on SGX

When

Price

Share price
29 Jan 2021

% change

Fortress Minerals

March 2019

20 cents

28 cents

40%

Southern Alliance Mining

June 2020

25 cents

36.5 cents

46%

Iron ore prices have been surging in the past 12 months or so, benefiting the 2 iron ore miners listed on the Singapore Exchange -- Fortress Minerals and Southern Alliance Mining. Their stock prices have risen but perhaps not to the extent that small-cap iron ore miners listed in Australia have. Here, a SGX article shines some light on Fortress Minerals, which operates in Malaysia. Phillip Securities now has a target price of 47 cents for the stock, up from 28 cents previously.
Fortress Minerals Rides Iron Ore Uptrend
The indomitable spirit of enterprise burns bright in civil and earth works contractor turned mining executive Dato' Sri Ivan Chee.
For the CEO of SGX-listed Fortress Minerals Ltd, the struggles and achievements of entrepreneurs – in brick-and-mortar as well as digital economies – are a constant source of inspiration.
"I admire their foresight, focus, sacrifices and dedication in achieving their ultimate passion – I constantly remind myself to learn from their examples and experiences," said Chee.
"I have many passions, but in business, my passion is to build a truly great Malaysian mining company that our team members and their families can be proud of."
The 55-year-old has more than two decades of civil and earth works construction experience under his belt. He has spent another eight years of his career in the mining industry, building up his portfolio and reputation by undertaking several iron ore mining projects since the early 2010s.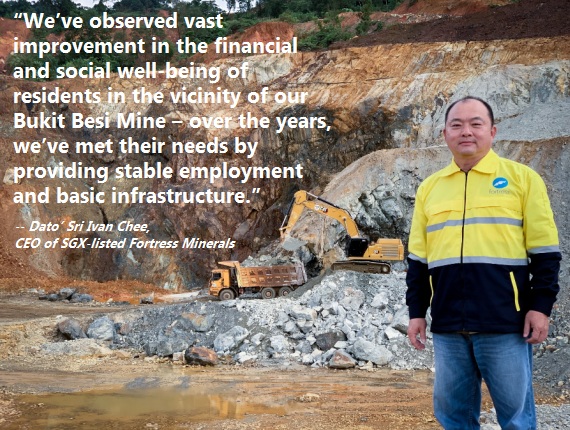 Chee has been leading Fortress Minerals since 2011, taking on the role of Executive Director cum Chief Executive Officer. In 2018, he was conferred the Legacy and Business Excellence of the Year title by Malaysia's SME & Entrepreneurship Business Award.
His greatest sense of satisfaction comes from witnessing changes in the welfare of employees as well as the broader community, as a result of the Group's operations.
"We've observed vast improvement in the financial and social well-being of residents in the vicinity of our Bukit Besi Mine – over the years, we've met their needs by providing stable employment and basic infrastructure," Chee pointed out.
"My ambition is to contribute to the building of a resilient society and economy by creating business opportunities, as well as a healthy and safety-conscious workforce culture."
Listed on SGX Catalist since March 2019, Malaysia-based Fortress Minerals is a high-grade iron ore concentrate producer. The Group currently produces magnetite iron ore concentrates with TFe grade of 65% and above, mined from the East, Valley and West Deposits in its Bukit Besi Mine, located in Malaysia's Terengganu state. It sells these iron ore concentrates primarily to steel mills and trading companies.
Competitive Edge
"Right from the start, we've adopted the strategy of producing high-grade iron ore concentrate because this grade continues to enjoy robust demand and premium pricing," Chee noted.
"While the iron ore price index is determined by market forces, we expect high-grade ore to command a premium over lower grades given its higher iron content and low impurities, which enhances production efficiency levels for steel makers."
In particular, its high-grade magnetite concentrate has seen a strong price performance over the last six months, thanks to increasing demand from steel mills in the region, including China.
"Steel makers are seeking to reduce their greenhouse gas emissions, placing more emphasis on using high-grade magnetite concentrate, which raises blast furnace productivity and lowers emissions," Chee said.
"We believe our focus on high-grade magnetite concentrates will provide us with the competitive edge in both domestic and export markets."
In the broader industry, iron ore prices have strengthened over 2020, with the steel-making raw material poised to become the world's top-performing commodity for the second consecutive year, buoyed by speculative fund flows and robust China demand.
These high market prices are expected to continue into the first quarter of 2021, supported by strong Chinese steel output, according to the latest S&P Global Platts Iron Ore & Steel Outlook.
In October, Fortress Minerals announced a new off-take agreement that will allow it to secure sales volume commitment of approximately 400,000 wet metric tonnes (WMT) from a domestic steel mill for a period between 1 September 2020 and 31 August 2021. Under this agreement, the pricing will be based on prevailing international market index prices.
"The agreement is a testament to the consistent demand for our quality, high-grade iron ore concentrate, and strong business relationships with our customers," Chee noted. "It also demonstrates our operating efficiencies and ability to successfully integrate into our customers' complex value chains to create mutual benefit."
The Group is confident that it is on track to produce over and above its off-take obligations, with a surplus to sell to other customers, he added.
For the half year ended 31 August 2020, Fortress Minerals reported a net profit after tax of US$7.8 million, more than double the US$3.6 million in the year-earlier period, while revenue surged 47.4% to reach US$20.1 million.
Iron ore deliveries and shipments of 210,143 dry metric tonnes (DMT) were 59.3% higher than a year ago. Its gross profit margin stood at 75.3%, up 6.2 percentage points year-on-year.
Fortress Minerals continues to invest in various initiatives and machinery upgrades to enhance its production and cost efficiencies without sacrificing product quality, or the safety and well-being of its employees.
"In our business, economies of scale play a crucial role in our cost and margin optimisation processes," Chee noted.
Evaluating Opportunities
In terms of resources, the Group's Joint Iron Ore Reserves Committee (JORC) resource estimate expanded to 7.18 million tonnes as of 29 February 2020, despite depletion through production and sales.
"With our structural and systematic exploration programmes, we're comfortable with the quantity of iron ore resource defined at our Bukit Besi mine," Chee noted.
"Apart from the discovery of new resources which can replenish our mined resource and add to opportunities for future mining, we've adopted a low-cost exploration strategy to continuously add new resources net of depletion, so as to extend the life of our mine."
At the same time, the Group is seeking opportunities to acquire and/or enter into joint ventures for new mining assets, either in Malaysia or the region, Chee said.
"Since our listing, we've reserved funds for this purpose. To-date, we have evaluated various opportunities, in both iron ore and other minerals, and will at the appropriate juncture, inform our shareholders accordingly."

Despite a relatively robust outlook, industry pressures continue to mount, not the least of which is competition for human capital.
"Over the years, we've invested substantially to continually build and develop our team members. Even so, this process has been challenging for us as we operate in a very competitive environment," Chee noted.
"Nonetheless, I'm glad to say we've had decent success in attracting and retaining our talent. And for that, I give credit to my senior management team members for the various strategies and approaches they've adopted over the years."
The challenges brought about by COVID-19 and the nationwide lockdown also weigh on Chee. "The question, 'When will all this be over?' is always at the top of my mind, as uncertainties generated by the pandemic continue to fuel a pervasive sense of fatigue and disillusionment among family, employees, and across businesses," he noted.
"But during these difficult times, there are opportunities to infuse new hope and energy into the Group, paving the way for us to outperform when we finally embark on the road to recovery," he added.
"I believe that as a leader, I can make a difference through personal accountability, caring and 're-onboarding' of our people to weather these challenges."
Meanwhile, this father of seven children – three boys and four girls aged 18 to 27 – hopes to pass on his core values of integrity, honesty, and diligence. "I believe that my commitment to my work is a testament to my character, and I hope some of that rubs off on them."
But more importantly, Chee has this advice for his children: Enjoy the season you are in right now, and be aware of how far you have come.

"In our hyperconnected world, where it's easy to sell ourselves short and constantly measure ourselves to others, remember that we are our own greatest challenge. It is only against ourselves – our successes and failures – that we should make our comparisons, not the rest of the world."


Fortress Minerals Ltd
Based in Malaysia, Fortress Minerals is principally in the business of exploration, mining, production and sale of high-grade iron ore concentrates. The Group presently produces magnetite iron ore concentrates with TFe grade of 65.0% and above, mined from the East, Valley and West Deposits in its Bukit Besi Mine, and sells its iron ore concentrates primarily to steel mills and trading companies.
The company website is: www.fortress.sg
Click here for the company's StockFacts page.
For the three months ended 31 August 2020 financial results, click here.
About kopi-C: the Company brew
Text: Jennifer Tan-Stanisic
Photo: Company file

kopi-C is a regular column on the SGX Research website that features C-level executives of leading companies listed on Singapore Exchange. These interviews are profiles of senior management aimed at helping investors better understand the individuals who run these corporations.

For previous editions of kopi-C: the Company brew, please click here.