Excerpts from Canaccord Genuity (Australia) report

Analysts: Reg Spencer & Larry Hill
JunQ production update
Event: Bald Hill production update

Highlights:
• Bald Hill produced 38.7kt of spodumene concentrate in the JunQ, below CGe of 44kt. While output was lower than our forecast (flat QoQ), product grade increased QoQ to 6.2%, representing a 3% increase in contained Li20.
Full operating statistics and costs were not provided (full Quarterly report expected later in Jul 19), but the JunQ result took 1HCY19 production to 77kt at 6.15% Li20 (equivalent to 78.9kt at 6.0% Li20), which was at the end upper end of the guidance range of 65-80kt.
Sales for the JunQ were well below forecast at 18.7kt (CGe 44kt), which we understand incorporates deferral of the Jun shipment into Jul, with larger shipments expected from the SepQ.

Offtake arrangements with JBJLIL cover 98-118kt in 2019, with 1H19 sales totalling 62.9kt (including 4.9kt to a new customer).

This compares to our CY19 production estimates of 176kt, with uncommitted volumes expected to be covered by the JSEMC downstream JV (see below) and expected news regarding new
offtake arrangements. By product tantalum sales were flat QoQ at 35,970lbs.

Comment:
Alliance Mineral

Share price:
A$0.13 c

Target:
A$0.35
• Production was softer than expected, but this was partially offset by continued increases in product grades to well above industry benchmark levels (with impurities well below threshold levels). This should lead to premium pricing versus peers (JunQ Ce US$704/t).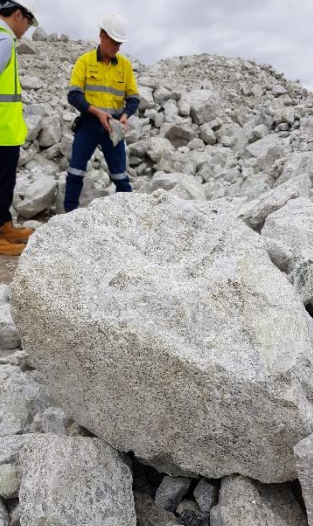 At Bald Hill: Pegmatites (rock-like objects) are mined, and crushed and processed in a plant into lithium concentrate. Photo by KGI ResearchOur prior estimates called for adjusted cash costs of US$383/t based on lower strip ratios in the JunQ (although we note spodumene production and byproduct sales were lower than CGe, suggesting costs will likely exceed forecasts).

• Lower-than-expected sales are partly reflective of current spodumene market conditions, but we expect a near term update on the progress of A40's planned downstream JV with Jiangte (see "JV deal provides downstream exposure without the capex"), which once underway, will offset a significant portion of A40's exposure to the concentrates market.

We highlight that China EXW lithium carbonate prices have been flat YTD at US$10,000/t - as such, bypassing the concentrates should be of meaningful benefit to A40's margins and cashflow.

Maintain SPECULATIVE BUY & A$0.35 target.