Excerpts from DBS Group Research report

Spotlight on M&A

Spider web listing – Optimising structure to maximise returns Cross holdings among listed companies is common and offers benefits such as retaining greater control of the group. However, this leads to a smaller free float which could hinder these entities from reaching a wider audience especially when fund raising.

As a result, the individual listed entities are not deriving the full benefits of a listed status. Stocks that fall into this category include mm2 Asia / UnUsUaL / Vividthree, and ComfortDelgro / Vicom.
mm2 Asia

Share price:
23 c

Target:
34 c
mm2 Asia owns 39% stake in listed entity UnUsUaL Ltd and 42% stake in another recently listed entity Vividthree.

With the acquisition of the Cathay cinema business in Singapore in 2017, the group has taken on debt to fund the acquisition.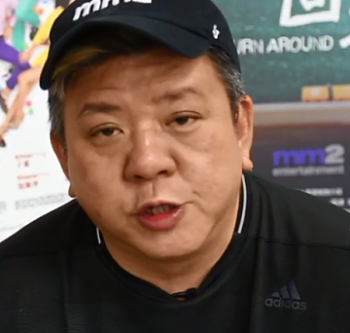 Melvin Ang, founder and executive chairman, mm2 Asia. Youtube screenshotAs a result, it has transposed from an asset-light group to own cinemas in both Singapore and Malaysia. It also reversed from a net cash position to net debt of 0.8x as at Mar-19, with interest coverage of about 4x.

Going forward, though net debt position is expected to improve to 0.4x in FY Mar 20F, the hefty interest expense is still a drag on the group's bottomline.

To alleviate the debt burden, mm2 could explore various options:-

1) A spinoff / dilute its stake in the cinema business

2) Divest its stakes in UnUsUaL and Vividthree

3) Bring in strategic investors

The cinema business helps the group to derive synergistic effect from having a full value chain. The complete integration of the content business (production of movies, Vividthree) and platform business (Cinema, UnUsUaL) would lead to better efficiency and cost savings for the group.

For example, ownership of cinemas not only provides a source of recurring income but also cost savings as mm2 usually has to pay about 50% of its gross box office proceeds for rental of cinemas.

mm2's multiple platform capabilities would place the group in a position to better distribute and exhibit content to reach a wider audience.

That said, mm2 can still derive the synergistic effect even with a smaller stake in the cinema business. Thus, the group is exploring various options to improve the financial matrix, especially with its current depressed share price.


"Based on sum-of-the-parts valuation, and stripping out its stakes in UnUsUaL and Vividthree, the market is valuing the core production and cinema segment at only S$144m, which works out to P/EBITDA of slightly over 2x, which is too low in our view."

-- DBS Research report
mm2's share price has fallen by more than half from a high of S$0.645 before it acquired the Cathay cinema business.

Coupled with the current cautious mood, especially for small-mid caps, current valuation is at an attractive level.

mm2 paid 13.8x for the Cathay cinema chain in Singapore and about 8-9x for the Malaysia cinemas while peers are trading at about 5.5x P/EBITDA.

Divesting its stakes in UnUsUaL and Vividthree to pare down its debt level is another option to improve its financial matrix.

Both UnUsUaL and Vividthree have a healthy project pipeline.

UnUsUaL has lined up its artistes in various locations including Singapore, China, Hong Kong, Malaysia, Bangkok, and Jakarta while its family entertainment shows, which have a wider target audience reach, provide even greater visibility.

Vividthree, on the other hand, is riding on the momentum of the Train to Busan tour set.