Excerpts from UOB Kay Hian report

Analyst: Lucas Teng

Potential Share Offer On The Horizon?

HMI announced a possible share transaction with a third party. While discussions have not been finalised, the stock is up 18% since 18 May and 5% in the past week.


HMI

Share price:
63.5 c

Target:
76 c
Current valuation at 25.6x 2020F PE is only at a slight discount to peers' and this indicates that any potential takeover premium will not be large.

We have a BUY for its positive longer-term prospects, with a DCF-based target price of S$0.73.

WHAT'S NEW
• Announcement of possible share transaction. Health Management International (HMI) announced on 17 Jun 19 that it is in discussions with a third party regarding a possible transaction involving the company's shares.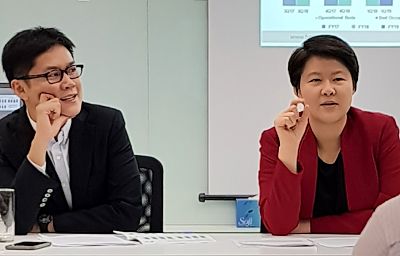 Chief Investment Officer Chin Wei Yao | CEO Chin Wei Jia. NextInsight file photoThe discussions are ongoing and the company has not made any decision regarding the possible transaction.

There is no certainty or assurance that these discussions will progress beyond the current stage or that any such transaction will occur.

• Shareholder ownership in controlling stake. According to HMI's annual report 2018, controlling shareholder - Dr Chin Koy Nam - has a deemed interest in the company, held by Nam See Investment (Pte) Ltd, her spouse and her children, totalling 322.6m shares (38.5%).

Including other substantial shareholders, their total stake was 68.8%.

We note some of the key shareholdings from its annual report below.


Selected key shareholdings
(Sep 18)

No. of Shares

% Ownership

Nam See Investment (Pte) Ltd

297,755,183

35.6

Maju Medik (Malaysia) Sdn Bhd

154,203,259

18.4

Kabouter Management, LLC

50,742,206

6.1

Cheah Way Mun

28,207,688

3.4

Orchid 2 Investments Pte Ltd

19,855,426

2.4

Dr Gan See Khem

10,765,853

1.3

Chin Wei Jia

5,317,200

0.6

Chin Koy Nam

4,266,420

0.5

Tan Chin Tiong

2,411,336

0.3

Chin Wei Yao

2,265,718

0.3

Total

68.8

Source: HMI, Bloomberg

• Other notable corporate actions from stakeholders. To recap, HMI had also conducted a placement to Heliconia Capital Management, a wholly-owned subsidiary of Temasek Holdings in Nov 17.

This was for 16.9m ordinary shares, about 2% of the total shares, at an issue price of S$0.65 per share and an aggregate issue price of S$11.0m.

Maju Medik is also a stakeholder, which had been issued consideration shares and rights shares, post-consolidation of HMI's non-controlling stake in its Malaysian hospitals in Nov 16.

Full report here.