In a July 2018 corporate and business update filed on the SGX website, Chasen Holdings said it was exploring "potential spinoffs and other capital market actions to enhance value to its shareholders".

Shortly after that, The Edge Singapore quoted

non-executive chairman Eric Ng saying at a results briefing:

"Right now, if you add up the value of all the subsidiaries, they far exceed the value of the parent company.

"So, the only thing to do is to let the subsidi­aries go to realise the full value of the Group."

At last week's FY19

(ended Mar 2019)

results briefing, Mr Ng indicated that progress has been made towards a spin-off of, possibly, its Chinese subsidiary and Malaysian subsidiary.

It is in the process of appointing listing professionals, including investment bankers.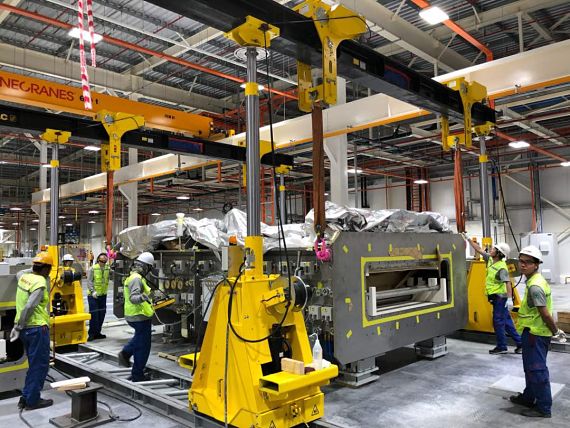 Chasen workers relocating sophisticated machinery. This requires state-of-the-art material handling equipment and specialised worker skills. Photo: Company
On the attractive fundamentals of the Chinese subsidiary for a listing, Mr Ng pointed out that it has been in operation for some 15 years, carrying out a very niche business.

This chiefly involves overseas OEM equipment move-in for newly established manufacturing facilities in China's coastal regions as well as inland provinces, and from China to Southeast Asia.

Chasen, which reckons that it has only two competitors in China, targets customers which are flat-panel display manufacturers and semi-conductor manufacturers, among others.

Its China relocation business grossed RMB180 million in FY19 (ended Mar 2019).

As for the Malaysian subsidiary, Mr Ng noted that it has achieved revenue of between RM30 million and RM40 million a year -- sufficient for a spinoff. And it is profitable.

This subsidiary carries out third-party logistics services across land borders in both directions. It is unusual in that its trucks, instead of being domestic-focused, traverse multiple countries -- Singapore, Malaysia, Thailand, Vietnam and China.

If and when the spinoffs materialise, the unlocking of value could help Chasen exit the SGX watchlist (Minimum Trading Price, or MTP) by the June 2020 deadline set by SGX.


Stock price

8.8 c

52-week
range

6.1 – 10.5c

PE (ttm)

6.3

Market cap

S$34 m

Price-to- book

0.5

Dividend
yield

4.6%

1-year return

23%

Source: Yahoo!
The SGX criteria to exit the MTP Watchlist are, simply put, a market capitalisation of at least S$40 million (currently S$34 million) and a stock price of 20 cents (currently 8.8 cents).

Asked if there is a fallback plan if the spinoffs are not achieved for whatever reason, CEO Justin Low said Chasen has until the end of 2019 to consider moving its current listing on the mainboard to Catalist.



Record revenue, record gross profit


Several insights from the results briefing last week:

♦ Its specialist relocation business continued to do well and could have reported higher revenue if its US customer, a major auto manufacturer, had not pushed back the installation of a new production line.

The work is now expected to start late this year or the first half of 2020.

Chasen reported its FY19 (ended Mar 2019) results recently with revenue up 3% to a record S$131.9 million.
| | | | |
| --- | --- | --- | --- |
| (S$'000) | FY19 | FY18 | Change |
| Profit before income tax | 7,252 | 6,973 | 4% |
| Income tax (expense)/credit | (2,452) | (842) | |
| Net profit after tax attributable to equity holders | 5,374 | 5,792 | -7% |
♦ Pre-tax profit was 4% higher at S$7.3 million. However, there was a large bump in the tax expense of S$2.5 million (FY18: S$0.8 million), so net profit attributable to shareholders slid 7% to S$5.4 million.

This was mainly due to the higher provision of deferred tax in FY19 and the reversal of an over-provision of income tax in FY18.


Specialist Relocation Solutions

Third Party logistics

Technical & Engineering

Total

S$'m

2019

2018

2019

2018

2019

2018
restated

2019

2018
restated

External sales

78.0

75.1

23.5

22.9

30.4

29.6

131.9

127.6

Gross profit

24.1

22.3

3.7

3.8

4.3

3.1

32.1

29.2

The higher gross profit was the result of one-off reclassification of costs in one subsidiary to administrative expenses.


♦ Chasen proposed a final dividend of 0.3 cent a share (FY18: 0.3 cent). It had paid out an interim dividend of 0.1 cent (FY18: nil).

While Chasen does not have a fixed dividend policy, it has been paying dividends annually since it was listed in 2000, including the years when it reported operating losses.

The FY19 results announcement is here.