Excerpts from Maybank Kim Eng report

Analyst: Lai Gene Lih, CFA


1Q19 met our expectations; maintain BUY


Maintain BUY as there were no surprises in 1Q19, management guidance was unchanged and diversification initiatives are progressing as planned.


AEM

Share price:
99.5 c

Target:
$1.40
As such, we believe our thesis for an earnings recovery in 2020E remains intact.

1Q19 PATMI was SGD6.6m (-20% YoY); AEM is on track to meet our FY19 forecast, achieving 24% of full year estimate.

The YoY decline was caused by reduced shipments of HDMT equipment, which management had already warned in prior quarters.

Our forecasts and ROE-g/COE-g TP of SGD1.40 (3.1x average FY19-20E P/BV) are unchanged. Further upward revisions to guidance would be a catalyst.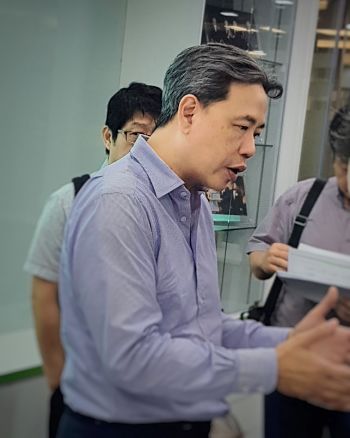 Loke Wai San, executive chairman, AEM.
NextInsight photoRevenue should pick up in 2Q-3Q
Based on the timing of orders received, we expect 2Q19 and 3Q19 revenue to be stronger than 1Q19, which achieved 22% of our FY19E.

1Q19 revenue fell 20% YoY to SGD53m as it shipped fewer HDMT test handlers.

Net margin held steady YoY at 12.5%.

This was because improved gross margin of 35.4% (+1.7ppt YoY), due to higher engineering revenue and better product mix, offset the effect of flattish staff costs.

FY19 revenue guidance of SGD225-250m was maintained.


Gaining traction across initiatives
Diversification initiatives are progressing on plan. For Huawei, AEM's has received a small purchase order for its optical fibre cable-test solution, and AEM does not rule out further orders by the end of the year.

For AMPS, the first commercial solution was delivered to the memory customer in early 2019, and AEM is pursuing new customers. Meanwhile, management expects the hybrid solutions project to undergo commercialisation in 2020E.

Risks to our forecasts
Key risks to our forecasts are: i) order cancellations; ii) underestimation of staff costs, as AEM plans to strategically add headcount to boost engineering and marketing capabilities; and iii) a slower than expected earnings recovery in 2020E.


Full report here.