Excerpts from SGX's article "10 Questions for Boustead Projects"


Stock price

94.5 c

52-week range

96 – 78 c

Market cap

$293.6 m

PE (ttm)

9.6x

Dividend yield

1.6%

P/B (ttm)

1.1

Shares outstanding

310.7 m

Float

29.4%

12m Ave Daily Trading Volume

$56,990

Source: Bloomberg (26 Apr 2019)
Company Overview
Established in 1996, Boustead Projects Limited is a leading industrial real estate solutions provider in Singapore, with core engineering expertise in the design–and– build and development of industrial facilities for multinational corporations and local enterprises. It has constructed and developed over 3 million sq m of industrial real estate in Singapore, China, Malaysia and Vietnam to-date. Boustead Projects is a 53%-owned subsidiary of Boustead Singapore. Link to StockFacts company page.

Q: Given the increasing popularity of green buildings and environmental awareness, does Boustead Projects have any projects that encompass this area?

• We view Boustead Projects as a leading private-sector builder of Green Mark Platinum-rated industrial buildings – the highest level of eco-sustainability under the Building & Construction Authority's Green Mark Programme.

ALICE@Mediapolis – our 9th and latest Green Mark Platinum-certified project – was recently featured as an eco-sustainable exhibit in Singapore's Draft Master Plan 2019 by the Urban Redevelopment Authority.

• In addition, 1 of 5 new private-sector Green Mark Platinum industrial facilities on B1 or B2-zoned industrial land has been built by us. We are currently completing the design-and-build of Bolloré Logistics Singapore's Blue Hub logistics facility which has achieved both Green Mark Platinum and LEED Gold certification under the US Green Building Council's Leadership in Energy & Environmental Design Programme.

Back in 2012, we completed Bolloré Logistics Singapore's Green Hub logistics facility which was then the 1 st Green Mark Platinum-certified facility in Singapore's logistics industry and Asia's largest LEED Gold logistics facility.

• For our upcoming development at Braddell Road, we intend to incorporate leading eco-sustainable features into the building design and are exploring zero-emissions for the common areas.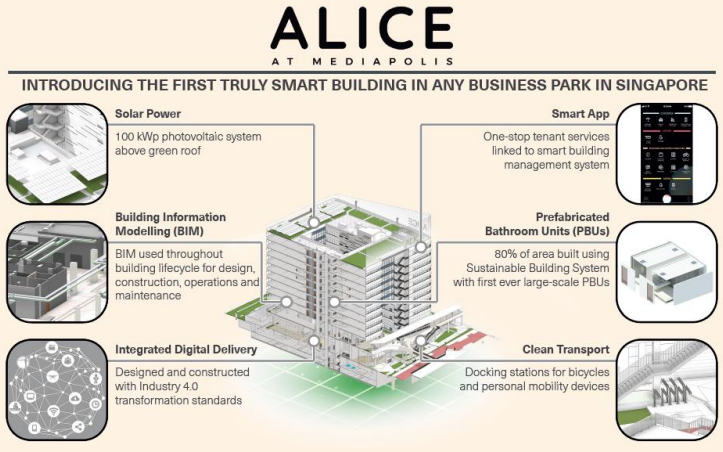 Q: Tell us more about ALICE@Mediapolis, Boustead Projects' recent smart building at one-north.

• We believe that ALICE can be seen as the most intelligent building to-date with the greatest number of building facilities integrated on a single platform, transforming the user experience for tenants, visitors, asset managers and the landlord, and enabling greater productivity through automation.

• Aside from being sustainable and energy efficient, ALICE is also equipped with a mobile app for tenants to monitor their energy and water consumption. The app also acts as a mobile access card for tenants and visitors, with a destination control system restricting access to a tenant's or visitor's respective floors as an added security feature.

The app and user portal also allows tenants to self-manage visitor access, staff passes, season/guest parking and extend air-conditioning hours, to name a few.

Q: We note that Boustead Projects' has an inaugural Longevity Report, what are some notable ESG goals or key points that are detailed within the report that investors should know?


"We believe we are the only SGX listco to create value for our clients, shareholders and stakeholders across the entire industrial real estate value chain."

-- Boustead Projects
• We think the Boustead Group engenders the true meaning of sustainability (or longevity, as we call it).

• We believe in building a sustainable future through our designs, processes, products, services and solutions, (particularly our Green Mark Platinum-rated buildings). While helping our clients build their growth, we want to ensure other key stakeholders grow and benefit as well (healthily and with minimal ecological footprint).

• We have identified in our Longevity Report how our business and performance, policies and practices in relation to environmental, social and governance (ESG) issues contribute to achieving 12 of the 17 United Nations' Sustainable Development Goals (UN SDGs). Above all, our report shares important insights on how we approach ESG performance across many non-financial factors, allowing shareholders and other stakeholders to assess our holistic performance and sustainability, and why we truly stand out from the competition. Click here for the Longevity Report.


Q: What is Boustead Projects' value proposition to its shareholders and potential investors? What do you think investors may have overlooked about its business?

• We believe we are the only SGX listco to create value for our clients, shareholders and stakeholders across the entire industrial real estate value chain.

We continue to invest substantially in advanced capabilities with Industry 4.0 transformation and market-leading standards including integrated digital delivery (IDD), 7D building information modelling (BIM), virtual design and construction (VDC), design for manufacturing and assembly (DfMA), augmented and virtual reality, and drone technology.

Our strategic partnerships augment our core capabilities and enable us to both create and capitalise on emerging opportunities driven by trends in Industry 4.0, smart buildings and smart cities, and regionalisation.

• We are also the private sector market leader in Green Mark Platinum industrial facilities.

We have the most industrial buildings on the CONQUAS all-time top 100 projects list (8 projects), and are 1 of 8 bizSAFE Mentors in Singapore.

We are also confident of unlocking value for shareholders once our leasehold portfolio reaches a certain level (our wholly-owned properties are recorded on our balance sheet at cost less depreciation, while the total market value of these leasehold assets is much higher).