Excerpts from Maybank Kim Eng report

Analyst: Lai Gene Lih, CFA


Raises FY19E guidance; TP up 13%


AEM has raised its FY19E revenue guidance to SGD225-250m from SGD180-210m.


AEM

Share price:
$1.15

Target:
$1.40
We raise FY19E EPS by 47% to reflect this, though we have reduced FY20E EPS by 8% to factor in potential effects of its main customer's decision to cease its development of 5G modems.

Our ROEg/COE-g TP climbs to SGD1.40, now based on 3.1x average FY19-20E P/BV from 2.8x previously.

Any further upward revision in guidance should provide catalysts while a key risk is a slower-than-expected FY20E recovery.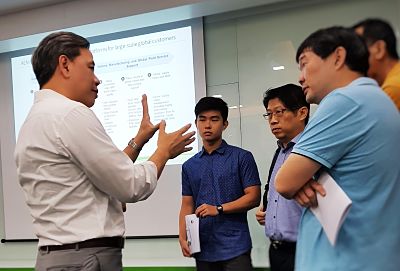 Loke Wai San, executive chairman, AEM.
NextInsight file photoIncrease mainly attributed to main customer
We raise FY19E revenue by 23% to SGD236m.

We understand that increased orders were primarily from its main customer, a USD260b market-cap chipmaker, which contributes around 90% of revenue.

AEM has also raised FY19E capex guidance to SGD4-7m from SGD3-5m, to support future customer programmes. We believe this is an indicator of traction with customers.

Customer ceasing 5G modem development: small impact:
AEM's main customer recently announced that it is ceasing the development of 5G modems, which was initially expected to be found in consumer devices in 2020.

We understand that a portion of AEM's HDMT test-handlers is used to test the customer's current generation of modems.

This development implies a possibility that dwindling modem volumes may create slack capacity, which could temper HDMT equipment orders in 2020E.

Hence, we lower FY20E revenue/earnings by 3%/8%.

Upside to our FY20E estimates could come from:

i) contributions from Huawei and a new hybrid project from its main customer, which AEM says is progressing according to plan. These have not been factored in; and

ii) our potential underestimation of the pace of HDMT proliferation within its main customer's portfolio of chips.

Following its 5G modem exit, this customer will increase its focus on the development of 5G infrastructure and data centre solutions.

Such chips are likely to be sophisticated, requiring more testing than modems, which should be positive for AEM, in our view.




This is in turn based on a FY19-20E average ROE of 28.6%, COE of 10.6% and LTG of 2%.

We use an average of FY19-20E to arrive at our TP as we believe this will capture its expected earnings recovery in FY20E.

We believe stronger-than-expected orders present upside potential as we have not factored in contributions from Huawei and the hybrid solutions project that AEM is ramping up for its key customer in 2020.

Risks to our view include slower-than-expected order intake.
Our revised ROE-g/COE-g TP of SGD1.40 is now based on 3.1x average FY19-20E P/BV.

Full report here.