Excerpts from 2018 annual report

Pg 5
OUTLOOK


"The Group will continue to drive revenue growth across markets and business segments while reining in costs across the board. Consequently, the financial performance for FY2019 is expected to improve, in-line with positive momentum gathered from the prior year."


Overall, the Group anticipates an increase in activities in the markets that we serve, and a more stable pricing environment going forward. We will focus on three main markets, namely the Americas, Australia and Singapore.

The Group will continue to drive revenue growth across markets and business segments while reining in costs across the board. Consequently, the financial performance for FY2019 is expected to improve, in-line with positive momentum gathered from the prior year.

For the Oil & Gas segment, the activity levels for onshore and offshore in the Americas remains healthy.

Competing bids for work are likely to be stable despite fierce competition.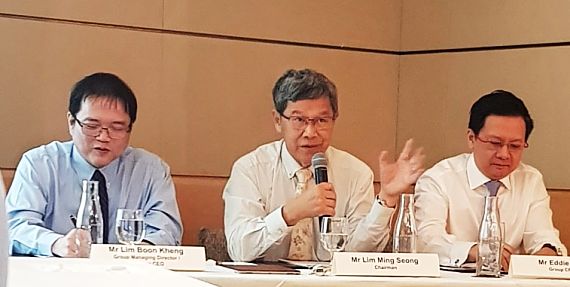 L-R: MD Lim Boon Kheng | Chairman Lim Ming Seong | CFO Eddie Foo. NextInsight file photo.
For 2019 and beyond, we will focus on building and growing our onshore oil and gas business in the Americas through adding complementary solutions and services and strengthening our geographical presence.

We will continue to focus on building a steady pipeline of small greenfield projects and brownfield projects while working on opportunities in large greenfield projects.

On the Infrastructure business, the radio communication business in Australia and New Zealand registered stable growth in FY2018.

In FY2019, we expect the radio communications business to continue to grow and expand into other geographies within and outside of Australia and New Zealand.

In 2018, the Group secured S$150.5 million of new infrastructure project contracts including a large government project in Singapore. We expect the government project to contribute positively to the Group starting from 2H2019 and across several years.

With Singapore's adoption of smart city solutions to push for productivity, efficiency and security, the Group is poised to capitalise on this trend to secure more contract wins from the Singapore government with its differentiated solutions in FY2019.

Last but not least, the Group will continue to expand its footprint in the Americas and Australia through acquisitions and new setups in its bid to secure a sustainable income stream.

With a net cash position of S$37.9 million at the end of FY2018, the Group will be able to continue its current strategy of geographical expansion and addition of complementary capabilities through acquisitions.


DIVIDENDS
CSE continues its good track record of consistently paying dividends to shareholders.

The Board of Directors has recommended a final one-tier tax-exempt dividend of 1.5 Singapore cents per share. This represents a dividend payout of 70.4% of the Group's FY2018 net profit, after taking into account the interim dividend of 1.25 Singapore cents per share given in 3Q2018.

The book closure date for the final dividend is 6 May 2019 and the dividend will be paid on 17 May 2019, subject to shareholders' approval at the forthcoming AGM.