Nearly a decade ago, in 2010, Food Empire Holdings had already emerged as the No.1 player in the 3-in-1 coffeemix market in Russia with sales of about US$100 million.

2018

Sales
(US$'000)

Change
(%)

Russia

113,305

(2.9)

Ukraine

25,684

17.6

Kazakhstan & CIS markets

37,104

5.8

Indochina

50,384

32.9

Other markets

57,853

(0.1)

Total

284,330

5.5
Little did one guess that the Singapore company would go on to extend its "empire" by another US$100 million or so in sales (see table).

It has done so -- not by doubling in Russia -- chiefly by producing non-diary creamer and instant coffee and by selling its ready-to-drink 3-in-1 coffee in Vietnam.

As CEO Sudeep Nair tells it, diversification has been a key strategy of the Group -- to grow sales and to reduce concentration risks associated with the Russian market.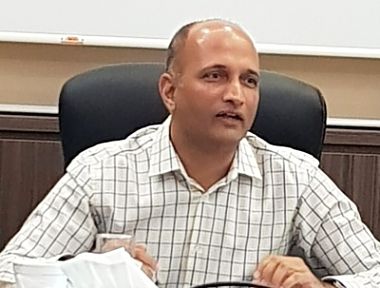 CEO Sudeep Nair at the FY18 results briefing. NextInsight photo.
Total revenue for FY2018 was US$284.3 million, a year-on-year increase of 5.5%.

There was sales volume growth in Russia, Ukraine, Kazakhstan and Indochina.

But revenue from Russia (US$113.3 million) was impacted, once again, by a depreciation of the ruble against the US dollar (from 59 rubles at the start of 2018 to 70 rubles at end-2018).

Food Empire also had forex loss from its efforts at selling instant coffee in Myanmar: The kyat depreciated 14% versus the USD in 2018.
Food Empire

Share price:
56 c

Target:
69 c

Source: RHB
That -- plus higher marketing expenses in Vietnam -- contributed to the Indochina market turning in a segment loss of US$1.2 million (FY17: US$741,000 profit).

"For FY19F, management is likely to de-prioritise the Myanmar market and focus on growing its strengths in Vietnam. This should have a positive impact on margins," according to RHB Research analyst Juliana Cai in a 4 March report.

By revenue, the Indochina market was a star performer with a 32.9% growth to US$50.4 million (with a stable Vietnamese currency).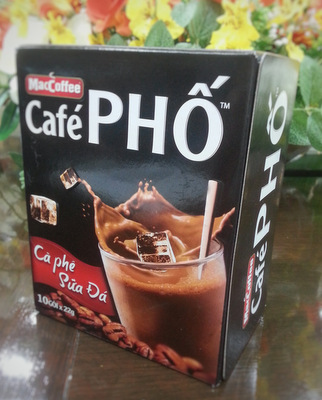 Food Empire's star product in Vietnam, Cafe Pho, continued to do well while other products were launched by Food Empire at different price points.

In total, Food Empire recorded a foreign exchange loss of US$3.5 million in FY2018 compared to a foreign exchange gain of US$1.1 million in FY2017.

Food Empire's net profit after tax attributable to shareholders for FY2018 was US$18.1 million, a y-o-y increase of 28.0%.

The result was "aided" by a one-off impairment charge of US$7.7 million in 2017 in relation to its Korean associate, Caffebene, which had filed for a court-led rehabilitation process.

As at 31 Dec 2018, the Group's balance sheet remained healthy with cash and cash equivalents of US$42.2 million.


Where the revenue and profits come from

US'm

Russia

Ukraine

Kazakhstan and CIS Markets

Indo China

Other Markets

2018

2017

2018

2017

2018

2017

2018

2017

2018

2017

Revenue

External sales

113.3

116.7

25.7

21.8

37.1

35.1

50.4

37.9

57.9

57.9

Inter-segment sales

0.8

0.8

-

-

-

-

-

-

85.5

84.1

Total Revenue

114.1

117.5

25.7

21.8

37.1

35.1

50.4

37.9

143.4

142.0

Segment results

17.5

21.4

4.1

1.6

5.4

3.7

(1.2)

0.7

21.8

23.8
♦ Second coffee manufacturing facility to open in 2020
Stock price

56 c

52-week range

49 - 69 c

PE (ttm)

16.5X

Market cap

S$299 m

Shares outstanding

534 m

Dividend
yield (ttm)

1.1%

1-yr return

-17%

Source: Yahoo!
Food Empire's diversification strategy continues apace with the construction of its second India coffee plant.

Costing US$50 million, it is expected to be completed in 2020.
It will produce freeze-dried coffee, which is of higher premium than the spray-dried coffee it currently produces in its first coffee plant in India.

The coffee plants output are to serve external customers as well as in-house requirements in the production of 3-in-1 coffee.

In the latter case, having your own supply mitigates effects of big fluctuations in coffee prices in the open market.


Food Empire, in addition, has been evaluating M&A possibilities, which would further extend its "empire".