Property developer Roxy-Pacific Holdings reported net profit attributable to shareholders of $23.9 million for 2018, down 22% y-o-y.
There's an abundance of content in the financial statements, press release and Powerpoint presentation. Here we share takeaways from the Q&A session at the FY18 results briefing:

1. In a good position: In a property slowdown, not every player suffers on the same scale as there would still be opportunities and decent returns for some.

Roxy-Pacific Holdings may be one of them although its two project launches in Jan this year resulted in sales that were below its expectations.

The two sites (in River Valley and Derbyshire) were part of Roxy-Pacific's landbank bought relatively early in the recent upcycle and the landbank is thus cheaper than competitors'.

With that, Roxy-Pacific can price its projects advantageously.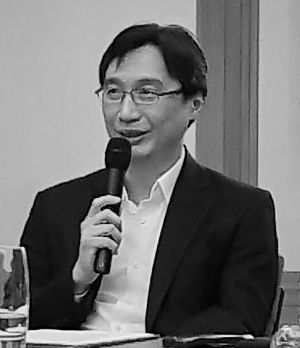 Executive Chairman and CEO Teo Hong Lim. NextInsight photo.For example, its RV Altitude freehold condominium in River Valley is going for about $2,900 psf on average while nearby projects are asking for $3,200 psf, said Mr Teo Hong Lim, executive chairman.

Any emerging project selling at $2,900 psf there will only be breaking even, while RV Altitude (15% sold to date) is expected to make a reasonable profit.

Mr Teo said Roxy-Pacific has four remaining Singapore projects (in Dunearn, Lorong Kismis, Farrer Road and Novena) to launch, from April till early 3Q2019.

Because these are relatively small projects, they will be launched as soon as possible.


Stock price

41.5 c

52-week range

37.5 – 54 c

PE (ttm)

22

Market cap

S$541 m

Shares outstanding

1.31 b

Dividend
yield (FY18)

2.16%

Adjusted NAV

75.45 c

1-year return

-18%

Source: Bloomberg
2. On en-bloc market: Asked for his take on landbanking, Mr Teo said asking prices of en-bloc deals will need time to adjust to the new market reality created by the government's additional cooling measures last year.

Asking prices will have to come down some 20% below the market rate prior to last year's government measures, ventured Mr Teo.

This is to reflect new technical measures that directly affect developers' project margins.

En-bloc asking prices are likely to take 1-2 years to adjust given that these require communal agreements.

In the meantime, government land parcels will be more saleable because developers' bids will be lowered to reflect new market realities.

If all Aussie project revenues are recognised this year … they will surpass Group's FY2018 revenue of $133 m

In Sydney

Type

Units sold

Revenue to be recognised

The Hensley, Potts Point

Residential

Shop

98%

100%

S$64.1 m

S$1.0 m

Octavia Killara

Residential

98%

S$41.8 m

West End Residences, Tower 1 (Foundry)

Residential

89%

S$126.8 m

West End Residences, Tower 2
(Art House)

Residential

86%

S$81.5 m

Total

S$315.2 m
3. What's up Down Under? In Sydney, Roxy has three development projects that are substantially sold and it will be collecting outstanding proceeds from buyers (who have paid 10% downpayment) of The Hensley which achieved TOP in Dec 2018.

In aggregate, the three projects have achieved S$315 million of revenue, which will be booked on project completion.

The amount represents about 50% of the $631 million in unrecognised revenue so far of the Group's development projects in three countries, including Malaysia.

The broader Australian residential property market is turning down, and Roxy has switched to developing an industrial strata-titled project in Sydney, which it will launch in 1H2019.

It expects a good return on the project, its first in Australia offering light-industrial warehouses and self-storage units.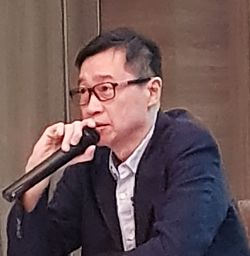 Deputy CEO Chris Teo. NextInsight photo4. Hotel busines: In Singapore, most hotels have maintained "quite healthy" occupancy rates, said Mr Chris Teo, Deputy CEO of Roxy-Pacific.

At Grand Mercure Singapore Roxy Hotel, the occupancy rate has been in the high 80s.

But there has been pressure on room rates because of a new supply of rooms in the market. Room rates should stabilise this year with an upside bias next year, reckoned Mr Teo.

Japan has been strong and continues to look good with tourism arrivals staying firm, and Roxy-Pacific's two hotels in the country have benefitted, said Mr Teo.

Overall, Roxy-Pacific's hotel segment contributed S$25 million gross profit on S$50 million revenue in 2018.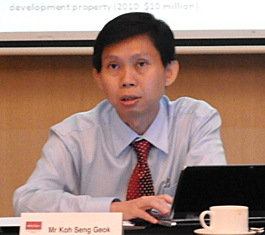 Deputy CEO Koh Seng Geok. NextInsight file photo. 5. Cashflow: The Group has borrowings of about $1.04 billion, of which $440.6 million is due to be repaid in 2019.

Group financial controller Shermin Chan said $144.4 m of the debt relates to loans for sold units which are expected to be repaid upon obtaining TOP and collections from buyers of the properties.

$101.2 m relates to revolving loans for shop units and Grand Mercure Roxy Hotel and $64.7 m loans are secured by fixed deposits.

Deputy CEO Koh Seng Geok noted that this year, Roxy-Pacific potentially will be collecting about A$300 million in proceeds from its three development projects in Australia. These are substantially completed and substantially sold.

While one Aussie project achieved TOP in Dec 2018, the remaining two are expected to do so later this year, which will mean an outsized revenue recognition for FY2019. (Singapore developers recognise overseas project revenues only upon project completion, instead of progressively).

Group cash outflow is projected to be "limited".


"With the incoming cash flow and limited cash outflow, our gearing of 0.77 is expected to come down this year," said Mr Koh.