Excerpts from Canaccord Genuity's report

Analysts: Reg Spencer & Larry Hill

Initiation coverage
No longer a tale of two halves


Alliance Mineral

Share price:
A$0.30

Target:
A$0.50
We initiate coverage of Alliance Mineral Assets with a SPECULATIVE BUY rating and a $0.50 target price, following the completion of the merger via Scheme of Arrangement between Alliance Mineral Assets (AMAL) and Tawana Resources (TAW).

Bald Hill lithium JV partners complete merger: The merger was originally announced in Apr 18, and involved AMAL acquiring TAW through the issue of 1.1 AMAL shares for every TAW share held.

Shareholders of AMAL and TAW approved the merger in Sep '18 and Nov 18, respectively, with Federal Court Approval for the Scheme of Arrangement granted on 3 Dec 18.

Former TAW shareholders now comprise ~49% ownership of the Merged Group, which was admitted to the ASX on 4 Dec.
Simplified ownership of the Bald Hill lithium operation: Post Merger, AMAL now has 100% ownership of the Bald Hill hard rock lithium operation, located in Western Australia.

The project has an initial Reserve life of +9 years (from total Resources of 26Mt at 1% Li20), and was commissioned in Mar 18 with initial spodumene concentrate production capacity of 155ktpa (2018e production 77 kt).

Production is contracted to HK-listed Burwill Holdings in JV with China based EV maker Jiangte Special Electric Motor Co for construction of a 15 ktpa chemical converter plant in China), with a fixed price offtake for 2018/2019 of US$880/t for SC6.

Upside opportunity #1 - plant upgrade: Studies were recently completed for a low capex (A$10-12m) plant upgrade at Bald Hill.

We estimate that this will increase concentrate production by 67% to +26Oktpa through plant debottlenecking and treatment of fines material. Works are expected to commence in early 2019, with increased concentrate production expected from mid'19.


Upside opportunity #2 - mine life extension: Reserves support a mine life at the current production rate of +9 years.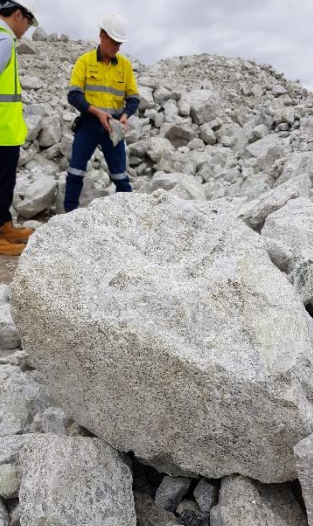 At Bald Hill: Pegmatites (rock-like objects) are mined and go through the plant facility to be processed into lithium concentrate. Photo by KGI ResearchHowever, we see good opportunity for further increases through infill drilling/conversion of Inferred Resources, as well as extensional drilling of multiple untested targets within the immediate project area (Exploration Target of 30-50Mt).

Exploration activities have been limited in recent times as focus has been on mine development, but with operations now being bedded down, plus a stronger balance sheet (see below), we anticipate drilling activities to ramp up in 2019.

Balance sheet - stronger post merger: We estimate AMAL to have a cash position of +A$45m by end CY18, with funding flexibility provided through additional undrawn debt facilities of A$20m (drawn facilities total A$33m).

We anticipate solid operating cash flow moving into FY20, which combined with the healthy balance sheet provides sufficient capacity for funding plant upgrade works and exploration activities.


Valuation & Recommendation: Our project model is based on an 11-year, ~260ktpa spodumene concentrate operation (+30ktpa LCE), with average LOM costs of A$509/tnet of tantalum credits), from which we derive a project NPV 10% of A$609m.

Our target price of A$0.50/sh (rounded) comprises our estimated NPV 10% for the Bald Hill lithium operation, net of corporate and other adjustments.

Our target price implies a potential return of +50%, supporting our SPECULATIVE BUY recommendation.