From $1.8 million in 2011, Nordic Group has grown its net earnings every year, reaching a record $15. 3 million in 2017.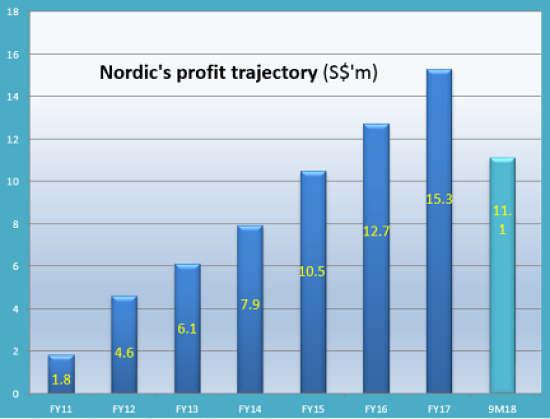 That long winning streak is uncommon among SGX-listed companies and even among Nordic's peers in the sector servicing the downstream petrochemicals industry.

Nordic Group, however, looks set to take a breather this year from its internal target of growing 20% a year.
Its 3Q brought in $3.3 million for a total of $11.1 million in net profit for 9M2018.

It's a rare quarterly event for Nordic that its 3Q profit was 24% lower year-on-year (and 3Q revenue was 20% lower y-o-y).

4Q needs to bring in an exceptional harvest to lift its full-year profit significantly higher than the record $15.3 million achieved in 2017.

For perspective, 4Q in 2017 delivered $4.4 million profit.

Thus, the odds are that the full-year 2018 profit would be (slightly) lower than 2017, or about there.

In its 3Q18 presentation material, Nordic says: "Our Group expects growth to be muted."


| | |
| --- | --- |
| Metric | % |
| Return on assets | 10.20 |
| Return on equity | 20.19 |
| Gross profit margin | 29.59 |
| Net profit margin | 14.22 |
| EBITDA margin | 21.02 |
| Operating margin | 18.15 |
Through the years, Nordic has performed remarkably vis-a-vis its peers serving the petrochemical, marine, oil and gas industries, many of whom have been loss-making or ekeing out small returns.

In contrast, Nordic's financial metrics are looking strong (see table), arising from prudent cost and risk management initiatives.

It has an outstanding order book of S$104.3 million. It won S$75.7 million worth of contracts this year.


Stock price

40.5 c

52-week range

39 – 63 c

PE (ttm)

10.4

Market cap

S$159 m

Shares outstanding

393 m

Dividend
yield (ttm)

4.1%

1-year return

- 23%

Source: Bloomberg
That has not prevented its share price from correcting: From a record high of 63 cents in Jan 2018, ahead of the release of an expected 2017 record profit result, it has slid to 40 cents in recent days.

The stock looks supported at the 40-cent price level, with Nordic buying back 186,300 of its shares in the last two weeks of November. (It has continued doing so into December).

That price level comes with a decent dividend yield of 3.5-4% (dividend payout ratio is a handsome 40%).

The PE ratio on FY2018 expected earnings is 10-11 X.


3Q18 Powerpoint materials, Nordic says:

"Our Group expects growth to be muted and full recovery to be slowed.

"However, we are optimistic with
1) secured contract wins till date largely from the onshore and downstream oil and gas sectors;
2) our prudent cost and risk management initiatives undertaken;
3) the credit worthiness of our growing clientele base (e.g. oil majors, government agencies etc.);
4) and further opportunities for earnings accretive M&A

"Nordic Group will continue to deliver value to shareholders."In its