No Signboard Holdings' restaurants, well-known for their premium seafood cuisine, saw lower sales -- but not markedly so -- in FY18 (ended Sept 2018).

Collectively, its three outlets -- at the Esplanade, VivoCity and Clarke Quay – reaped S$19.1 million in sales, a 10.4% dip y-o-y.

No Signboard said this was due to declining tourist spending and (the usual) intense competition in the F&B industry, among other factors. And the 2018 World Cup could have kept some customers who are soccer fans indoors.


Highlights

FY18

FY17

Chg

S$'000

S$'000

%

Revenue

26,501

24,393

8.6

Raw materials & consumables used and Changes in inventories

(8,979)

(5,920)

51.7

Employee benefits expense

(8,494)

(5,542)

53.3

Total other operating expenses

(6,543)

(4,796)

36.4

Total operating expenses

(6,604)

(4,557)

44.9

IPO expense

(1,121)

-

N.M.

Impairment of goodwill and intangible assets

(4,306)

-

N.M.

Net Profit after tax attributable to equity holders

(2,307)

7,722

(129.9)

Net Profit after tax attributable to equity holders less extraordinary items*

3,121

7,722

(59.6)

* Less IPO expense and impairment of goodwill and intangible assets
No Signboard has a fledgling beer business, which it acquired effectively in June 2017.

In FY18, sales grew 140.0% to S$7.4 million, representing revenue of the full 12 months of FY18 versus only four months of revenue registered in FY2017.

The beer business and the restaurant business took the Group's total revenue to S$25.6 million, a 8.6% growth y-o-y.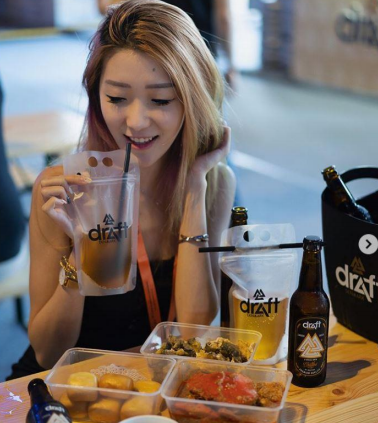 Draft Denmark making inroads into coffeeshops and supermarkets. Photo: InstagramThe beer business was impacted by an accounting treatment that had no impact on cashflow: No Signboard catered for a one-off S$4.3 million impairment of goodwill and intangible assets of its recently-acquired beer business.


The goodwill and intangible assets had relied heavily on the previous management team and sales strategy.

With the beer business not performing to expectations by the current management of No Signboard, the latter decided to rationalise and restructure the beer business.

After an extensive review, the Group acquired the remaining 20% stake in the beer business from the former minority shareholder and management, in order to secure full control over the business.


Next step: To develop a new strategic direction and catalyse positive changes,

a new Executive Vice President,

Mr Arthur Quek, was hired to head the beer business.



He came with more than 20 years of experience in the beer industry.

The entire sales team was replaced and new management appointments made in the beer business.



A rebranding exercise is ongoing with its signature brand –

Draft Denmark -- which includes increasing its product mix and Stock-Keeping-Units ("SKU") offerings.

The new team is reviewing and changing its sales and operational strategies to increase the Group's market share and presence through distributing Draft Denmark beer to more coffeeshops and supermarkets.

One of the third-party brewing facilities has been replaced in order to address quality issues with its bottled beer.

The new team has reviewed all aspects of costs and vendors to improve its cost structure, logistics and production process efficiency.



The Directors are reviewing the beer business and the net proceeds from the IPO allocated to the development of the beer business.



With a new slate, the beer business is forging ahead to win over the Singapore market.

For more on the FY18 results, click here.