ISDN Holdings has a resilient engineering-related business which grows with the Chinese economy and, in particular, the trend of factory automation in China.

However, this 31-year-old Singapore company is open to, and already seizing, opportunities outside its core business -- such as hydropower projects in Indonesia and solar energy and energy storage projects in China.

Several investors and NextInsight headed to ISDN's office in an industrial estate in Kaki Bukit to meet up with the management to understand ISDN's direction better.

What looks like a resilient business is trading at attractive metrics:

• Price-earnings ratio of about 5,


• P

rice-book ratio of 0.5, and


• P

rospective dividend yield of nearly 5%.

Given its strong 9M2018 profit of $12.5 million, ISDN, which is dual-listed in Singapore and HK, has said it is headed for record full-year profit.

5 takeaways:

Stock price

20 c

52-week
range

20 – 25c

PE (ttm)

5.5

Market cap

S$79 m

Shares outstanding

395 m

Dividend
yield (ttm)

3%

Net asset value

41 c / share

1-year return

-14%

Source: Bloomberg
1. High-end of market: Supplying motion control systems can get you peanut returns or decent ones, depending on whether your customers are producing high-end products or otherwise.

ISDN operates in the high-end range where machinery churns out products with brand names that you would instantly recognise.

OEM manufacturers and system integrators turn to ISDN with its proven track record -- and ability to propose, design and customise s0lutions.

ISDN's customers produce machine tools for manufacturing components to be used, for instance, in smartphones and semiconductors.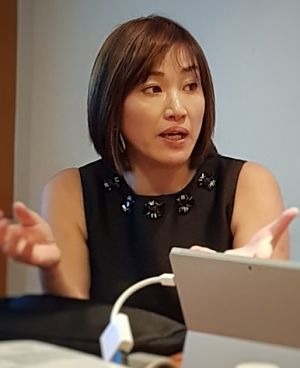 Christine Ho, CFO of ISDN Holdings. NextInsight photo.Other customers develop machinery for producing industrial robots, medical devices, electrical instruments such as microscopes, defence-related equipment, and life sciences equipment.

So, ISDN thrives on a high-mix, low-volume business model -- instead of catering to companies that are into mass production of devices.

Contrary to some investors' perception, ISDN, which derives around 70% of its revenue from China, is not entirely a project-based business.

There's recurring revenue from the sale of spare parts.

2. Decent gross profit margins: Reflecting the quality of its clientele base, ISDN's 9M2018 gross margin was a decent 26.5% (9M2017: 24.9%).

On top of a decent profit margin, ISDN is able to have a meaningful market share: According to a Frost & Sullivan report, ISDN ranked first and fourth in terms of revenue in 2015 in the Singapore and the PRC motion control solution markets, respectively.

ISDN's market shares were reported to be 10% and 5.1%, respectively.


ISDN's financial highlights

FY (end-Dec)

2014

2015

2016

2017

9M2018

Revenue
($'m)

230.5

236.0

258.5

292.2

230.8

Net profit ($'m)

7.5

8.7

5.2*

9.6

12.5

Dividend
(SG cents)

0.4

0.4

0.3

0.6

*$3.5 m in expenses were incurred for dual-listing in HK.

3. Always profitable: ISDN makes profits year after year, even during cyclical downturns of the semicon industry or the economy.

Even the 2008 global financial crisis?
We searched the past record and, yes, in 2008, ISDN's net profit rose 16.4% to $8.2 million, backed by revenue growth of 13.2% to $116.4 million.

The steady profits derive from the diversity of ISDN's customers and the sheer volume.

ISDN has about 10,000 customers and, in 2017, sold less than 13% of its goods and services to its 5 largest customers, according to its 2017 annual report.

That large spread of customers over China's vast geography requires ISDN to maintain a relatively large workforce which is largely engineering/technical-trained. The higher operating costs, inevitably, tranlaste into modest net margins: 5.4% in 9M18 (and 3.5% in 9M17).

4. Consistent dividends: ISDN has been paying dividends every year since its 2005 listing, except in 2009 (post-global financial crisis).

Last year, it adopted a policy of paying out 25% of its earnings as dividends, which takes it to a higher level than its payouts in the past.

Let's do the math: Assuming 4Q18 earnings is the same as 3Q18, ISDN's earnings per share for 2018 would come up to 3.77 cents.

At 25% payout, the final dividend would be 0.94 cents. That's a yield of 4.8% based on a stock price of 19.8 cents.


5. Hydropower projects will generate high profits:
For quite some time already, ISDN has said little about its mini-hydropower projects. Finally, its 3Q18 results announcement talked about "definitive results from 2019".
It said its first two plants -- a 4.6MW plant and a 9.7MW plant in Sumatra -- are expected to be operational in 2H2019, followed by a 10MW plant in 2H2020.



As we learnt, for such projects, the capex is high (at roughly US$2.1-2.2 million per MW capacity), execution risks are real -- but once they get off the ground, the operating costs are low while the cashflow is strong.
For example, in a press release in 2014, ISDN said its 4.6 MW plant is estimated to cost US$10 million and would generate US$2 million per year.



(The tariff for the first project is quoted in rupiah while it's USD for subsequent projects)



Running costs would be roughly one tenth of revenue.

Project

Cost

Revenue

Tariff/
KWh

Running cost/
KWh

4.6 MW
(20 years tenure, renewable)

US$10 m

US$2 m

787 rupiah
(5.4 US cents)

0.5-0.7 US cents

9.7 MW
(25 years Build-Operate-Transfer)

US$20 m

US$5.3 m

9.7 US cents

0.5-0.7 US cents

Source: ISDN press releases (1 July 2014, 3 July 2015).
Figures may have been adjusted somewhat subsequently.
In these projects, ISDN holds equity stakes along with Singapore investors, Indonesian entities, and with a China state-owned enterprise, China Huadian, which is the key investment, technology and project development partner.


Cautionary note: The trade war between China and US will impact Chinese exporters to the US, and could dampen ISDN's revenue streams derived from the semiconductor and electronic sectors. However, ISDN has a very diversified customer base and certain sectors that it serves are growing, including medical devices, environmental protection, Artificial Intelligence and electric vehicles.

For more background, see SGX article: ISDN: Gears Up for Growth in Automation Era