You might say Health Management International (HMI) has done one thing in reverse.

Typically, Singapore companies establish themselves on home ground and then venture overseas but HMI achieved the lion's share of its current success overseas and now has a greenfield venture to nurture in Singapore.

After years of building up its hospital business in Malacca (since 1998) and Johor Baru (since 2009), HMI has recently acquired 70% of StarMed Specialist Centre.



The remaining 30% is held by a group of doctors there.



Billed as the first private one-stop ambulatory care (ie outpatient) centre in Singapore, StarMed started operations in 3Q of this year.

The facility is

c

o-located with Park Hotel Farrer Park above Farrer Park MRT station.

"If you walk around, you will see our equipment is new and are of hospital specifications. We run the place like a hospital -- the staffing ratios, the various protocols, the standard operating procedures," said HMI's CEO, Chin Wei Jia, at a 1QFY19 results briefing yesterday.

"But because StarMed is smaller, we can have more personalised service. The work flow and the patient experience are different from that of a hospital."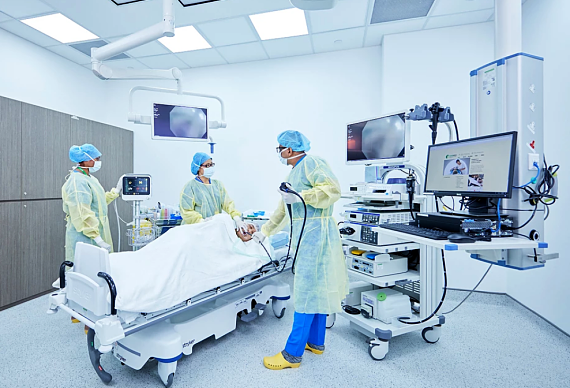 The Day Surgery Centre at StarMed is a one-stop centre for diagnostic and surgical procedures that do not require admission into a hospital. All of the procedures in the centre are done on an outpatient basis, delivering cost savings compared to hospitals. Photo: Company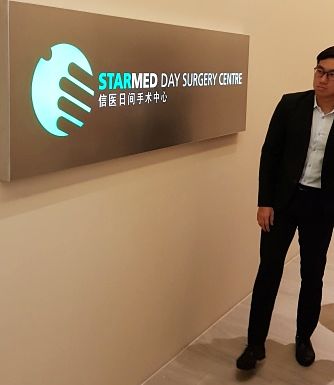 Aside from day surgeries, StarMed's services span the fields of cardiology, radiology, endoscopy and health screening.

Its radiology centre houses the most sophisticated imaging machines, including CT and MRI scanners, in Singapore.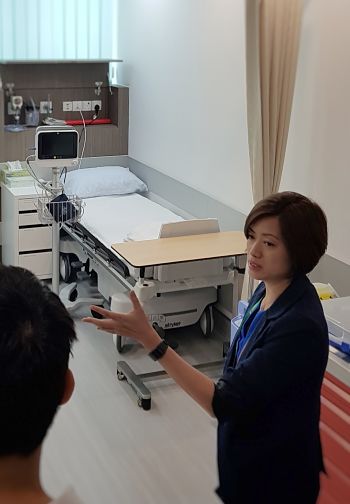 Investors and analysts toured StarMed after the 1QFY19 results briefing. NextInsight photo.Currently, StarMed has more than 20 doctors and will recruit more as patient volume rises -- an approach similar to that at its hospital operations in Malaysia.

Doctors, generally, have a fee-sharing arrangement with StarMed and they are not StarMed employees.

Asked about the pricing for its services, HMI's CEO, Ms Chin, said StarMed's would, generally speaking, be somewhere between that of public and private hospitals.

StarMed owns three of the four floors of its operational business and will acquire the fourth floor as well as the ground floor, totalling 10,602 sq ft, for $36.7 million from the building developer, RB Capital.

The deal is to complete in Jan 2019.

HMI projects that StarMed will take two to three years to breakeven. Phillip Securities estimates RM1.6-2.2 million in EBIT (earnings before interest and tax) loss per year.

HMI had, in May 2018, acquired an initial 62.5% stake in StarMed for $6.9 million and assumed obligations of up to $31.2 million worth of loans, which is in proportion to its shareholding.


(RM'000)

1QFY18

1QFY19

Change
%

Revenue

117,054

124,931

6.7

Gross Profit

44,160

40,628

8.7

EBITDA

28,579

31,152

9.0

EBITDA margin (%)

24.4

24.9

2.4 pts

PATMI

13,786

10,648

(22.8)

Core PATMI
(excluding forex loss)

15,756

14,147

(10.2)
Continued organic growth
For 1QFY19 (July-Sept 2018), HMI reported continued growth in revenue and EBITDA (see table).

Over the years, HMI's financials have grown mainly by patient volume (instead of price jumps) and type of medical procedures performed.

The clientele are largely middle-income Malaysians.

Of HMI's total customer base, about a quarter are foreign patients -- mostly Indonesians, whose numbers declined in 1QFY19 as the rupiah weakened.


Stock price

56 c

52-week
range

52 – 73c

PE (ttm)

25

Market cap

S$465 m

Shares outstanding

837 m

Dividend
yield (ttm)

0.6%

1-year return

-18%

Source: Bloomberg
Excluding forex losses, HMI's core profit after tax and minority interest dropped 10.2% mainly due to:

(1) RM3.1 million share of StarMed's start-up costs, and
(2) accelerated amortisation of RM2.5 million of capitalized expenses related to a term loan facility which was fully repaid in 1Q2019.

For more, see the 1QFY19 Powerpoint materials here.