Sunpower Group ("SP") reported a good set of 3QFY18 results last night.

Excluding Convertible Bond effects, 3QFY18 revenue and underlying net profit rose 88% and 106% to RMB764m and RMB57m, respectively.

9MFY18 revenue and underlying net profit jumped to RMB 2.0b and RMB129m, respectively.


RMB million

3Q18

3Q17

YoY
% Chg

9M18

9M17

YoY
% Chg

Revenue

763.7

407.2

87.5

1,983.3

1,126.3

76.1

EBITDA

124.3

34.5

260.8

269.7

120.3

124.1

Pre-tax profit

79.5

21.0

278.1

147.2

80.0

84.1

Profit attributable to shareholders

56.8

15.1

276.7

115.0

63.6

80.7

Underlying net profit(1)

56.8

27.6

105.6

129.2

85.8

50.6

Underlying EPS (2)
(RMB cents)

7.7

3.6

105.6

17.5

11.6

50.6

1) Underlying net profit is the true operating performance of the Group, after adjusting for amortised interest expenses and fair value gains or losses associated with the Convertible Bonds issued in 2017, as well as foreign exchange gains or losses.

2) Based on issued share capital of 737,657,142 ordinary shares.

Source: Company


My personal view on its results
At 1st glance, results look strong but I had a nagging doubt that the company may not be able to meet analysts' aggressive estimates of around RMB250m underlying net profit.

After studying the results further, I gained confidence that Sunpower is likely to reach the figure (barring unforeseen circumstances).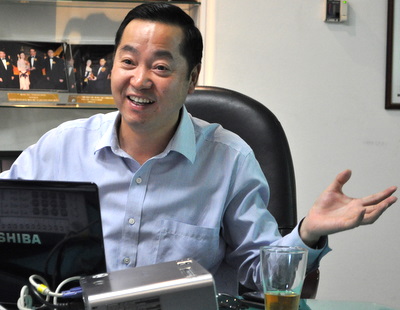 Guo Hong Xin, executive chairman, Sunpower Group. NextInsight file photo.In the 3Q results announcement, the company highlighted:

1. The continued ramp-up of Green Investment (GI) projects, which will include:

a) Quan Jiao and Lianshui Projects will continue to secure new customers driven by the closure of small "dirty" boilers.

The projects started production in 3QFY17 and 4QFY17;

b) Full-quarter electricity revenue to be contributed by the Changrun Project which is an additional source of income;

c) Additional revenue from providing heating during winter by Xinyuan Plant which was acquired in Nov 2017;

d) Full quarterly contributions from Yongxing Plant, which will benefit from higher seasonal activities in 4Q.

2. Its EPC and EEM (collectively, M&S) segment is expected to benefit from a record order book of RMB2.2 billion as of Sep 2018, as compared to RMB1.45b as of Aug 2017.

Furthermore, the company said there are usually higher deliveries of work-in-progress products in Q4.

With the above factors, it is likely that 4QFY18F GI and M&S performance are much stronger than in 4QFY17.

Also, it may be noteworthy that 4QFY17 net profit contributed >50% of its entire full year net profit.


Other noteworthy points
It is good to see their 9M2018 underlying operating cash flow is 2x that of full year 2017, and 4x that of 6M2018.

This validates the company's emphasis that GI projects give high quality, and recurring, cash flows as they are usually able to require advance payments from customers due to the exclusive supplier status.

Caveats as usual
As usual, I wish to note that

a) As I am vested in SP, I may be biased in my interpretation;

b) I always like to provide a balance view to my clients. Hence please refer to this Shenton wire article dated 9 Nov 2018 on America 2030's point of view (see HERE).

Val Sklarov, CEO of America 2030, was quoted saying that SP's shares weren't in the designated account because the borrowers hadn't complied with the terms of the loan i.e. due to borrowers' failure to pay the amounts owed to lender in accordance with the loan agreements.

In the write-up, it is not clear whether Val is saying that Mr Ma Ming and Mr Guo Hongxin have failed to pay the loan amount, or the break-up fee relating to this agreement.

In the SGX announcement, we were given to understand that the loan had not been disbursed yet but the shares were already deposited. Anyway, there are always two sides of a story.

c) Although I have repeatedly mentioned this point, it bears mentioning again. In my opinion, we usually don't have complete information or guaranteed information on a company.

Thus, what we can do is to do our due diligence on publicly available info given time and other constraints (note I am neither an analyst nor working in upper management of SP, i.e I will NOT have any inside information) and exercise our independent judgement, taking into account the risks.

As I get many queries on SP on whether u can still buy, sell or hold SP shares, its best to do your own analysis as everybody is different. Your guess may be as good as mine 😊;

d) Updated analyst reports, if any, may not be out so soon as SP may be organising a conference call later part of the week.

P.S: I am vested in SP. Do note that as I am a full time remisier, I can change my trading plan fast to capitalize on the markets' movements.
Please refer to the disclaimer HERE