Stock price

2.3 c

52-week range

1.8 - 8.2 c

PE (ttm)

--

Market cap

S$23.9 m

Shares outstanding

1.02 b

Dividend
yield (ttm)

--

1-yr return

-64%

Source: Bloomberg
If investors re-rate a mining company upon its start of meaningful production, then Anchor Resources is a stock to watch.

After almost three years as a listed company on Catalist, and reporting losses every year, Anchor Resources has in the past few months started production of "semi-processed concentrated ore" and dimension stone granite.

We visited its production sites in

the Malaysian state of Terengganu

last week, and share here operational insights into, firstly, the Lubuk Mandi gold mine. (We'll have another article on the granite quarries.)


Watch this 3-minute video of the gold mine's facilities and operations >
The article below supplements with more information.
Videos and photos by Ngo Yit Sung, Leong Chan Teik and Anchor Resources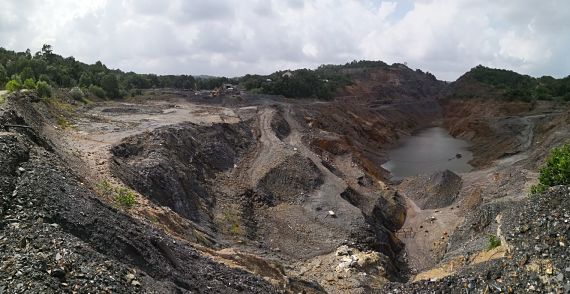 1. Open pit mining at Lubuk Mandi mine, located on the extensive Eastern gold belt of Peninsula Malaysia, was carried out by the previous operator prior to Anchor Resources winning a tender for the concession in 2013.

Anchor Resources then carried out drilling activities to determine the gold resources, and constructed processing facilities.

In May 2017, it engaged a Chinese company, Great Aims Resources, to construct a tunnel in order for gold ore to be extracted more economically.

Generally, under an agreement, Great Aims Resources would bear the capital and operating costs -- including facilities to process the hard rock -- in exchange for a share of the revenue.

(Obligations under the agreement and details of the sharing of revenue and expenses were announced in May 2017 and amended in April 2018.)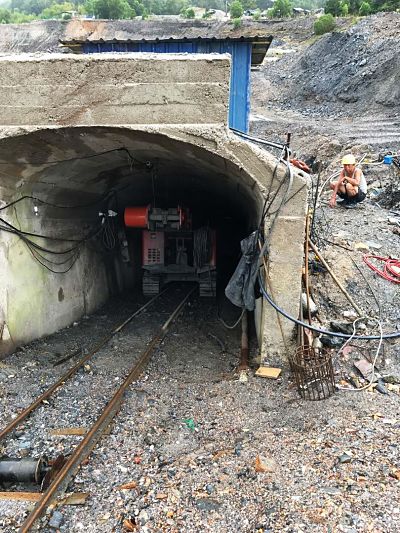 2. A 210-metre tunnel with a vertical depth of 90 metres has recently been completed.

Workers are extracting hard rock for a stockpile which, when sufficiently sizeable, will be processed for gold.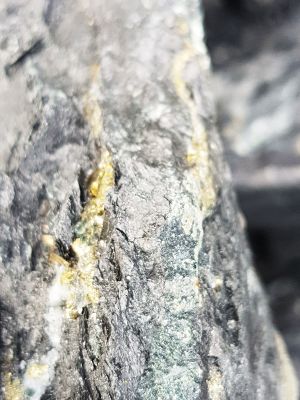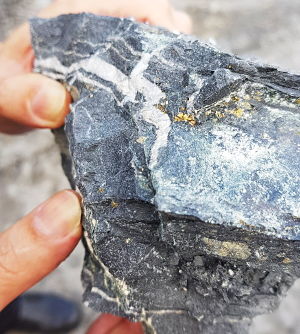 3. Gold traces visible on hard rock!
Excavated hard rock are being stockpiled for processing. The rocks got us excited as we came across many with traces of gold on their surfaces.

But there's much work ahead to crush the rocks and then chemically treat them in order to retrieve the gold.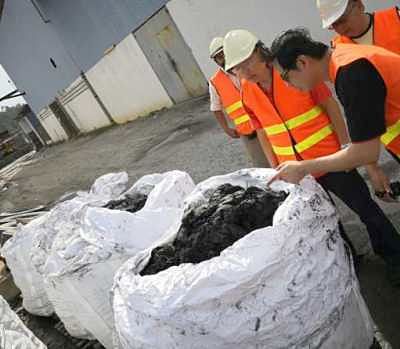 An average of 34 grams of gold in each tonne of concentrate (the black stuff in the picture). 4. Gold in tailings left behind by previous operator: Anchor Resources has been processing tailings into "semi-processed gold concentrated ore" which has a black tarry appearance.

The first shipment was in March 2018 to a customer in China.

In its Aug 2018 update to the market, Anchor Resources said as at the end-July 2018, it had exported 74 tonnes of semi-processed gold concentrated ore.

There was an average of 34 grams of gold in a tonne of concentrate.

(For an idea of the potential profitability, see: ANCHOR RESOURCES: Ready to be valued as a producer, not explorer)