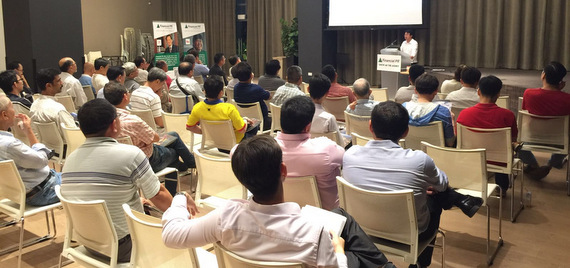 Investors attending a talk on CNMC Goldmine recently.
NextInsight file photo.
IT'S BEEN A LONG while since gold prices have brought this much cheer to investors.

The three largest gold mining stocks on SGX -- CNMC Goldmine Holdings, Wilton Resources, and Anchor Resoures -- have generated 29% in total return since Britain voted to exit the European Union on 24 June, noted an "SGX My Gateway" report.


♦ Watch out for Fed comments
"The Federal Reserve will meet later this week – 26-27 July – to decide US monetary policy, and any comments on the future direction of interest rates will likely have an impact on gold prices.
"As a general rule of thumb, gold price is negatively correlated to rising rates as the opportunity cost of holding non-yielding assets typically increases when interest rates climb.
"Gold prices are also sensitive to other variable factors, including geo-politics, the broader macroeconomic outlook and general consumption patterns."

-- "SGX My Gateway" report
In comparison, the benchmark Straits Times Index's (STI) total return was 7.1% since Brexit.

For the year to date, these three stocks averaged a 54.3% total return -- a figure massively influenced by CNMC's outsized stock jump of 129.5%.

Their average one-year and three-year total returns were 52.4% and 9.7%, respectively.


Much of the stocks' gains rode on rising gold prices.

But now gold prices have retreated from the two-year high of US$1,366.33/oz reached in early July, and are now largely unchanged from the levels seen before Brexit.

Bullish investors reckon there's yet more upside because gold supply has been curtailed in recent years when prices softened after hitting a five-year peak of US$1,627.05/oz in July 2011.

In addition, Indian and Chinese gold demand should rise over the next several years as income levels and urbanization continue to rise.

At least, these are key reasons laid out in this Forbes article dated 1 July 2016: Why Gold Is Now In A New Bull Market


Name

Market Cap in S$M

Total Return Since 24 June (Brexit) %

Total Return YTD %

Total Return
1 Yr %
Total Return
3 Yrs %

P/E

P/B

ROE %

Dvd Ind Yld %

CNMC Goldmine

181

22.2

129.5

103.5

68.9

9.6

3.3

40.6

1.2

Wilton Resources

181

45.5

39.7

1.3

-49.5

N/A

6.2

-12.2

N/A

Anchor Resources

39

20.4

*

-6.2

N/A

N/A

N/A

57.0

N/A

N/A

Average

29.3

54.3

52.4

9.7

9.6

22.2

14.2

1.2
Source: Bloomberg & SGX StockFacts (data as of 25 July 2016)
*Total return YTD % calculation based on IPO date of 18 March