Senior management of Alliance Mineral Assets (AMA) and Tawana Resources are in Singapore this week for a series of investor meetings to give updates on the operations of the Bald Hill Project

in Western Australia

which the two companies co-own.

We attended one meeting yesterday where they, notably, also highlighted the benefits of the merger of the two companies.

Shareholders of both companies are expected to vote in favour of the merger scheme in EGMs this month (21 Sept and 26 Sept, respectively).


Merger benefits:

• Increased scale likely to attract a wider breadth of investors across two stock exchanges

• Simplified ownership and operating structures position the Merged Group for additional growth

• Pure-play mid-tier lithium producer

• Positioned to attract a premium valuation, improved liquidity and potential for market re-rating
Currently, AMA is listed in Singapore and Tawana in Australia.

Post-merger, assuming shareholder approval, the stock will be dual listed as "Alliance Mineral Assets" in Singapore and Australia.

With a proforma market capitalisation of over $400 million, it will likely enjoy a re-rating and attract more analyst coverage (see table for other positives).

Here are 8 takeaways from a Q&A session and discussion at Maybank Kim Eng that we attended:

#1 Quality of Bald Hill spodumene: "The level of iron in our spodumene – iron is one of the key dislikes of converters -- we have only 0.5-0.6% iron. In their concentrates, other Aussie spodumene producers have 2%, so at the moment so we are quite a standout in terms of the quality of the lithium concentrate.

"We have low levels of sodium and potassium and we're averaging 6% lithium concentrate which the other mines (in Australia) can't do at the moment."
-- Mark Calderwood, MD, Tawana.


#2 Ramping up: "The good thing is, our processing plant which was designed for 160 tonnes per has been operating at over 200 tonnes per hour. The plant is running at above name plate and we're looking at a fines circuit to increase production rates. When we install the fines circuit probably by the middle of next year, the total production will be 300 tonnes per hour."
-- Mark Calderwood, MD, Tawana.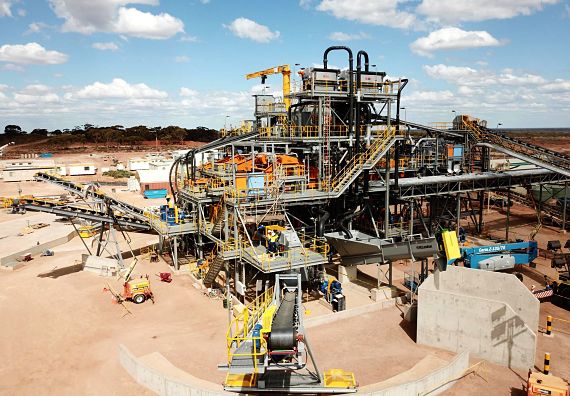 Bald Hill Project in Western Australia: Produces lithium concentrate and tantalum. Photo: Company
#3 Faithful payment by offtaker: "Burwill has given a LC (letter of credit) in advance of a shipment and we pick up 95 cents on the dollar straight away. They put an LC in place up to 30 days in advance, so it's funded before the ship leaves. No product leaves without being paid for."
-- Mark Calderwood, MD, Tawana.


#4 Using free cashflow: "From now until the middle of next year, any free cash we have will go into mining. We will reinvest into pre-strip and into capital expenditure for the fines circuit.

"For the next 12 months, we'll be mining at twice the life-of-the-mine average. The year after, we will start slowing down the mining."
-- Mark Calderwood, MD, Tawana.

#5 Higher strip ratio: "Because the ore body plunges down and as you mine it, you take bigger and bigger strips, so you get that ore up and exposed to keep your mine going.

"The average strip ratio is 10 units of waste for one unit of ore but over the next 12 months, we're going to mine at 17-20 units of waste to one unit of ore to expose the ore to keep continuity of production. Over the life of the project, the average strip ratio is 10 to 1."
-- Mark Turner, non-executive chairman designate of AMA post-merger.


#6 Fines circuit: "The capex for a fines circuit is A$10 - 15 million, it's not a big expenditure. At this time, we don't need a second DMS circuit if we can get the existing one running at up to 300 tonnes per hour, which is nearly twice the original name plate capacity."
-- Mark Calderwood, MD, Tawana.


In various global stock exchanges, battery mineral stocks have slid in recent months along with lithium carbonate prices. Other dampening factors include concerns over an oversupply of lithium before an upswing in electric car production materialises.

The share prices of AMA and Tawana have not been spared (down 26% from 38 c to 28 c, and 33% from 45 c to 30 c, respectively, since the start of 2018.

But they have held up relatively well compared to many peers. That's probably because of their expected merger which would lift the merged entity onto the radar screen of a wider range of institutional investors.

#7 Lithium carbonate prices are oversold: "(Lithium) hydroxide is of premium value now, it's a bit of a short-term play. Carbonate prices have been coming down quite steadily and you could see a turnaround at some point.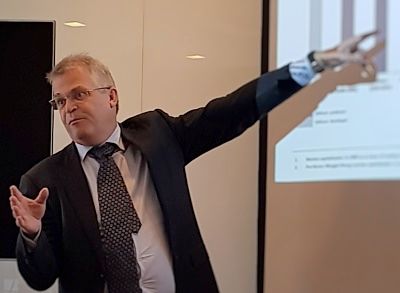 Mark Calderwood, MD of Tawana.
NextInsight file photo."I think what's happening is that end-users are using up their carbonate stockpiles and reducing their purchases, but at some point their stockpile will run out and they'll be back in the market. Then you'll see a small shift in carbonate prices.

"Normally, about 8 tons of spodumene go into making one tonne of carbonate. For hydroxide, it's seven tonnes -- less input and better price, so I think that tells you that carbonate prices probably are oversold.

"In addition, the yuan has weakened against the US dollar, so if you convert to US dollars, carbonate prices are even weaker than in reality in China."
-- Mark Calderwood, MD, Tawana.


#8 Size matters for stock performance: "The two biggest companies, PLS and Galaxy, are the best performers because when times are tough, the market goes towards the bigger companies -- always.

"There's a flight to size and that's why we need to merge. The money will stick around where the liquidity is, where the capitalization is, and the smaller you are, the more you get beat up."
-- Mark Calderwood, MD, Tawana.

The PowerPoint presentation is here.