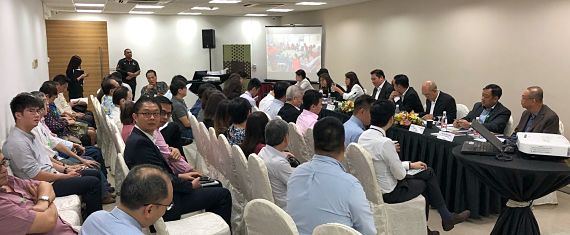 Photo by Jonathan Wee.

When: 26 July 2018
Where: Neo Group, 1, Enterprise Road, Singapore 629813.

Key takeaways:

1. Acquisitions for broad-based "empire": Executive chairman Neo Kah Kiat said the company had grown from 3 catering brands in 2012 during its IPO to 8 now, and would continue to make acquisitions.

"Every year, I will try to acquire one or two catering companies. The targets would be 'smaller' ones for now and we take a selective and cautious approach towards the bigger M&As."

In FY18, Neo Group set up 70%-owned Kim Paradise, which aims to be the largest tingkat provider in Singapore.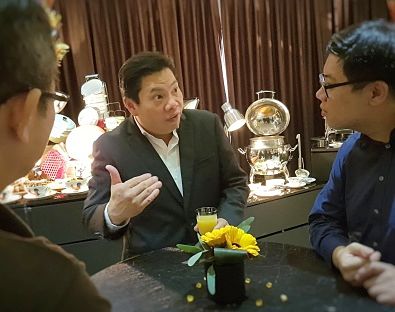 Executive chairman Neo Kah Kiat speaks with shareholders over lunch. Photo by Leong Chan TeikCatering -- which is Neo Group's core business -- accounted for $66 million of the group's total revenue of $178.2 million.

This segment's profit before income tax rose 3.6% to $6.69 million in FY18. EBITDA increased 1.7% to $11.16 million in FY18.

Noting that there are over 400 players in the catering industry, Mr Neo said Neo Group is the No.1 events caterer for seven consecutive years.

Its market share is estimated to be 14.9% and is primed for growth, which will lead to higher economies of scale to offset rising food and labour costs.


Stock price

55c

52-week range

49 - 72c

PE (ttm)

22X

Market cap

S$80 m

Shares outstanding

146 m

Dividend
yield (ttm)

1.8%

1-yr return

-15%

Source: Bloomberg
2. Bolstering balance sheet: Investor Mano Sabnani, describing Neo's growth and strategy as laudable, pointed out that the company's balance sheet needed to be boosted to support future growth.

He suggested a rights-cum-warrants issue, or a share placement, which would raise capital, improve stock liquidity, and help pare down the company's gearing.

Mr Sabnani noted that Neo Group's borrowings stood at $77.5 million, incurring finance costs of $2.5 million in FY18. Compare this to the FY18 net profit of $3.4 million.

3. Turning U-Market around: Responding to Mr Mano, Mr Neo said FY18 profit would have been higher at $6-7 million if not for a $3.9 million loss suffered by U-Market, which was acquired in Jan 2017.

He said U-Market Place -- a meat trader -- was hit by falling prices but has taken steps to tweak its business model in order to narrow its losses, or try to achieve breakeven, in FY19.

4. Stock price: Mr Neo said the board had considered corporate actions such as rights issue and share placement but reckoned that the share price was too low to execute those proposals.

(Since 2016, the stock has traded in a 50-70 cent band. Liquidity has been low, in part because Mr Neo holds 69% of the company's issued shares.)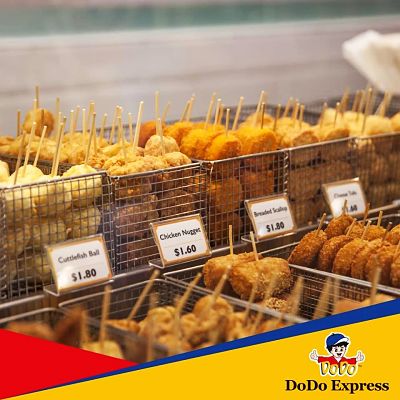 On sale: fish balls and tofu fish cakes made from quality grade yellowtail fish, cheese-infused cuttlefish and more; and fried bee hoon and steaming hot fish ball soup.5. Grab-and-go hot snacks: Neo Group has just opened DoDo Express, which offers fried snacks, at Northpoint City.

The next outlet will be at White Sands, and the plan is to open many in Singapore.

DoDo, by the way, is the brand of fishballs of Thong Siek Global, which Neo Group acquired 55% of in 2015.

DoDo looks like a turnaround story, with operating losses in FY16 and FY17 and then a $1.5 million pre-tax profit in FY18.