Excerpts from RHB Research report

Analysts: Jarick Seet & Lee Cai Ling


Maintain OVERWEIGHT with HRnetgroup, Silverlake, Kimly, GSS Energy and Moya as Top 5 Picks.


Top Picks

Stock price

Target Price

%
upside

HRnetgroup

87c

$1.18

36.4

Silverlake Axis

53c

65c

23.8

Kimly

36c

43c

21.1

GSS Energy

14c

25c

79.9

Moya

9c

14c

50.5
The markets have experienced a turbulent 1H18. Technology, oil & gas and property-related stocks have corrected significantly, especially in 2Q18.

We believe that technology/manufacturing stocks should likely continue to suffer de-rating of valuations from slower-than-expected growth and potential trade war implications, which have impacted them since March.

Thus, even after the selldown, we are NEUTRAL on the technology sector and are only positive on a few stocks.


Expect continued technology sector de-rating. Since US President Donald Trump initiated a possibility trade war against China and its other key deficit trading partners in March, manufacturing stocks in Singapore have since corrected 30-60% from March highs.

The average sector P/E has also decreased from 11x in 2017 to about >8x currently. With the trade issue still unresolved and potentially worsen, a further de-rating is possible before bottoming out.

This is especially when the average sector P/E was just 4-5x in 2016 before the massive technology surge in 2017.

Most of the manufacturing players are also experiencing slower growth rates, as 2017 was an exceptional year. Their earnings might also be impacted by global events and the trade war worsening. Thus, we are NEUTRAL on the sector.

Strong Singapore economic and labour data – positive for HRnetgroup. According to a labour market report quoting the Ministry of Manpower Singapore, 1Q18 layoffs plunged to a 5-year low, with 2,320 workers asked to go compared to 4,000 in the same quarter last year.

The seasonally adjusted unemployment rate dipped in March to 2% vs 2.2% a year earlier, which represents a 5-year low in the first quarter, as the economy grew faster than forecasted. The Ministry of Trade and Industry also announced that Singapore's GDP grew 4.4% in 1Q18, with full-year growth expected to come in at 2.5-3.5% this year. We remain bullish on HRnetgroup's organic growth this year and we think that it should easily beat consensus PATMI targets.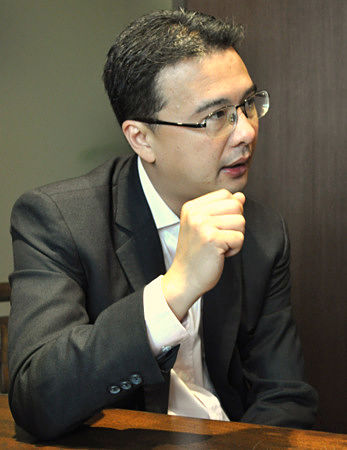 Sydney Yeung, CEO of GSS Energy.
NextInsight file photo.Rising oil prices – positive for GSS Energy. The rising oil prices are positive for GSS, as it is in the midst of finding an off taker for the gas discovered in the first well.

It is also awaiting the results of the second well, which it has re-entered. If oil is discovered, it should be able to produce and sell the oil in 3Q18 and would benefit from the rising oil prices, which we believe, will be positive to margins and profitability.

Our Top 5 Picks for 2H18. Our Top 5 Picks are HRnetgroup, Silverlake, Kimly, GSS Energy and Moya.

We like the defensive and rich cash flow generative nature of Kimly's business, coupled with M&A in the pipeline. We believe that growth would be exciting in the coming years.

For Silverlake, with bumper years of PATMI growth ahead justified by strong orderbook of >MYR380m not seen since FY15-16, we believe that the business cycle has bottomed out, and earnings may likely surge in the next few years.

With lower financing costs, concession extensions and recovery of non-revenue water (NRW) to provide strong organic growth, and additional accretive acquisitions in the pipeline to further boost NPAT – we remain positive on Moya.

Full report here.