Sunpower Group is the latest bet on the China environment theme for Tong Kooi Ong, the chairman of of The Edge Media Group, which owns The Edge Singapore.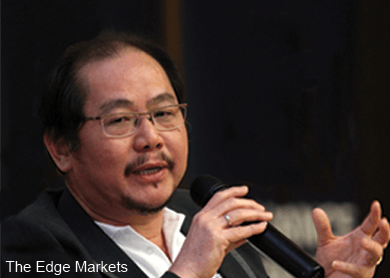 Tong Kooi Ong, chairman of The Edge Media Group. Photo: CompanyHe holds 190,000 shares of Singapore-listed Sunpower, as reflected in his weekly column in the current edition.

His purchase price is US$39.8 cents each, which is about 54 SGD cents. He is in the money as the stock currently trades at 64 cents.


Sunpower

Share price:
64 c

Target:
95 c

Source: Lim & Tan Research
His column notes that his previous holding with exposure to the environment theme, China Sunsine, has reported sharply higher earnings.

Another environment play, Nine Dragon Paper Holdings, which is still in his portfolio, is enjoying more robust selling prices.

Beyond the article's preamble, Mr Tong devotes practically all of the rest of his 2-page column to talking about Sunpower's business.


This week's The Edge Singapore also features Singapore-listed electronics components distributor, Serial System, which is on track to
spin off a major part of its business in a listing in HK.

The listing of the subsidiary, Serial Microelectronics (HK), will cut Serial System's stake from 91 % to 68.25%.

Notably, the article reports that "Serial System estimates that the subsidiary, which distributes electronic parts within Greater China, will have a

minimum market value of US$220 million ($299 million)

upon listing."

This is based on an earnings multiple of 20 times, which Serial System -- which is not covered by analysts -- says is in line with HK-listed peer companies. Serial Microelectronics reported earnings of US$11.4 million in FY2017.


That means Serial System's expected post-listing stake of 68.25% is worth about US$150 million.
By contrast, its market capitalisation as at June 18 was just $136 million, implying a price-to-earnings ratio of 8.25 times.

"If one of my subsidiaries is worth so much, do you think, as a group, we are undervalued?" says executive chairman Derek Goh, in an interview with Chan Chao Peh of The Edge Singapore.

For more on the Serial and Sunpower stories, get a copy of The Edge Singapore at the newsstands for $5.

For more on China Sunsine, read: CHINA SUNSINE: Incredible start to the year, TP now $1.97