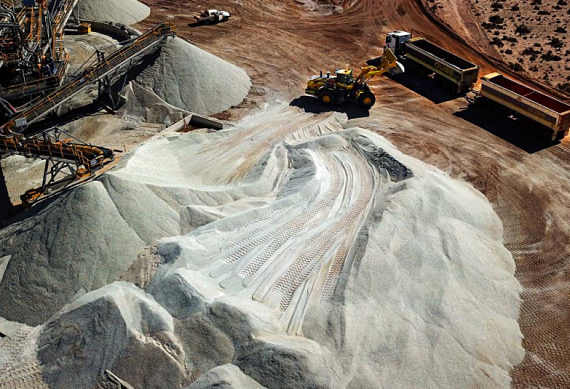 @ Bald Hill: Lithium concentrate ready to be trucked to Port Esperance for shipment to offtaker Burwill Holdings in China. Photo: CompanyThis month is quite a happening month for Singapore-listed lithium producer Alliance Mineral Assets (AMA).


AMA stock

36.5 c

52-week range

21 – 46 c

PE (ttm)

--

Market cap

S$231 m

Shares outstanding

632 million

Dividend
yield (ttm)

--

1-year return

11%

Source: Bloomberg
In early May, the first shipment of lithium concentrate from Bald Hill Project -- 50-50 owned by AMA and ASX-listed Tawana Resources -- left for China.

The lithium product -- which has been bought under an offtake agreement with Burwill Holdings -- will be processed in China for use in the making of lithium-ion batteries for electric vehicles.

And within weeks of each other, two institutional funds bought significant stakes in AMA, whose Bald Hill Project is the first Australian lithium mine to reach production status since 2016.

The 2 new substantial shareholders:

Fund

Date

Buy price

Shares bought

New
stake

Total stake

Regal Funds Management
(Sydney)

2 May 2018

33 c

34.17 m

34.17m

5.41%

LIM Advisors
(Hong Kong)

21 May 2018

35 c

30.0 m

60.35m

9.5%

Just early last year, there were sceptics aplenty -- and the share price was about a third of today's level. As funding and infrastructure for the Bald Hill Project made progresse, so did the share price.

And now comes the first wave of institutional funds (with a relatively bigger risk appetite compared to their peers): On 2 May 2018, Regal Funds Management crossed the 5% shareholding threshold with its 34,172,804 shares (a 5.41% stake, to be precise).

Sydney-based Regal had bought the shares at 33 cents apiece via a placement by AMA.

Then a fund in Hong Kong bought 30 million shares from Living Waters Mining (Australia), the investment vehicle of Tjandra Pramoko, the ex-CEO of AMA, and his spouse, Simone Suen.

The shares are held by LIM Asia Special Situations Master Fund Limited, whose investment manager is LIM Advisors, which manages more than US$1 billion of assets.


Substantial Shareholders

Number of shares held

% stake

Burwill Holdings

80,388,728

12.72%

LIM Advisors

60,350,000

9.5%

Jonathan Lim
Keng Hock

46,074,788

7.29%

Living Waters
Mining (Australia)

37,104,574

5.87%

Regal Funds Management

34,172,804

5.41%
The fund paid 35 cents a share in the married deal, raising its holding to 60.35 million shares, or a 9.5% stake in AMA.

Prior to that, LIM Advisors, according to market talk, had bought a load of placement shares, alongside Regal Funds Management, from AMA on 2 May 2018.

Without naming them, AMA had said it had placed out 76,522,804 new shares to 3 "sophisticated and institutional investors in Australia and Hong Kong".

The deals, at 33 cents a share, raised gross proceeds of S$25.3 million.


The two funds' acquisitions of AMA shares came ahead of a major catalyst for the stock -- an announcement, expected within this quarter, of an upgrade to the lithium reserves of Bald Hill Project.


Broker Canaccord Genuity in Australia, in April 2018, estimated that the upgrade could
see the life of mine of Bald Hill more than double from 3.6 years currently to ~8 years.

"We continue to see further resource upside at Bald
Hill, and in our view this is reflected in Tawana's plans to assess a second DMS circuit.

"We
estimate that this could see concentrate production increase by ~90% to 380ktpa. To
maintain an 8 year Reserve life at the expanded rate, Indicated resources would need to
increase to ~20Mt, which we don't believe is a low probability outcome given current Ind/Inf Resources of 19Mt, and the under-explored nature of the Bald Hill project area."

For more, see:
ALLIANCE MINERAL ASSETS / TAWANA: Numerous potential share price catalysts