For some middle-class consumers in China who turn their noses up on fake goods, what would they go for?



Answer: Out-of-season (or slow moving) goods of international brands sold, at discounts

of course

, in outlet malls not far from their homes.

Sasseur REIT, which listed on the SGX in March 2018, has a portfolio of four such outlet malls, and plans to increase the number.


Sasseur REIT

IPO price:
80 c

Yield:
2018F: 7.5%
2019F: 7.81%
It is the only such listed REIT in Asia. In the nature of REITS, Sasseur offers a stable yield.

Yet, because of the young and fast-growing industry that outlet malls are, the REIT can offer stronger-than-usual growth in returns to unitholders.

And it has first-mover advantage: The REIT's sponsor, Sasseur Cayman Holding, is one of the most established outlet mall operators in China.

The founder, Xu Rongcan, started China's second outlet mall in Chongqing in 2008. He will reportedly open the 10th outlet mall operated by the sponsor in several months' time.

| | | | | | |
| --- | --- | --- | --- | --- | --- |
| REIT portfolio | Chongqing | Bishan | Hefei | Kunming | Total / Average |
| Year opened | 2008 | 2014 | 2016 | 2016 | |
| Net lettable area (sqm) | 50,885 | 45,172 | 138,449 | 70,067 | 304,573 |
| Occupancy rate (as at 23.2.2018) | 96.4 | 91.5 | 95.8 | 96.1 | 95.1 |
| No. of tenants | 414 | 213 | 283 | 209 | 1,119 |
| Indicative valuation (RMB m) | 2,654 | 789 | 2,435 | 1,460 | 7,338 |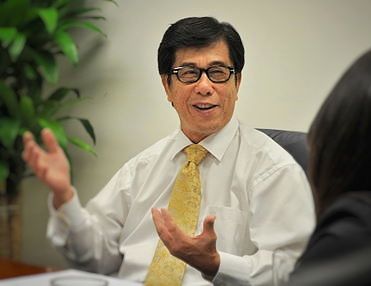 Anthony Ang, CEO of Sasseur REIT.
NextInsight file photo.
We met with the REIT's CEO, Anthony Ang, Chief Investment Officer Ken Chew, and Head of Investor Relations, Compliance and Risk Management, Chen Zhen.
Here are key takeaways:

1. Young and growing industry: The pathway of outlet malls is strongly diverging from that of traditional shopping malls. Strong growth is its key defining aspect.

Sales by Chinese outlet malls are projected to grow at a CAGR of 24% from 2016 to 2021. That is even faster than online platforms (19.8%), according to China Insights Consultancy.

The industry is young: There are an estimated 30 outlet malls in China which implies there is a lot of catching up to the 300 in the US.

"My chairman says the next 10 years will be the golden age for outlet malls in China," quips Mr Ang. "Outlet malls are resilient and counter-cyclical, which is why we say it's a compelling idea to invest in Sasseur REIT."

2. Close to the customer: The REIT's malls are the only such malls in the cities they are located in.

They are sited within an hour of city centres and tap large domestic consumer bases which are getting more affluent.

Chongqing's population is almost 40 million and its GDP is expected to grow at 9.1% on average in the next 5 years. Bishan is in the Greater Chongqing area. Hefei and Kunming have 7-8 million people with their GDP growing between 8.1 and 8.9%.

3. Growing with the tenants: Unlike other types of retail REITS, when it comes to the lease structure, Sasseur distinguishes between tenants whose sales are stable (such as F&B and cinema operators) and branded goods owners.

Rent for the former category is mainly fixed. On the other hand, rent for the latter is almost entirely based on agreed percentages of tenants' sales.

The REIT has appointed an "entrusted manager" (Sasseur Shanghai) to operate, maintain, manage and market the malls. It actively advises tenants and monitors their inventories.

Unlike other retail REITS, Sasseur's "entrusted manager" has installed a point-of-sale system in every retail outlet to automatically collect revenue from transactions. The proceeds are retained until the monthly rental is deducted.

Then, the balance will be handed to the tenants. Thus, there is unlikely to be bad debt.

4. Short leases: The weighted average lease expiry, by property income, is 1.2 years, which is shorter than the normal 3-5 years for shopping malls. This works in favour of the landlord as leases can be renewed at higher commission rates if tenants are enjoying sales growth.

Shorter leases also enable the REIT to achieve higher sales performance by refreshing its tenant list with those that carry brands with rising popularity.


SGD 'm

2018
forecast
period

2019
projection year

Change*

Fixed
Component

65

80

3%

Variable
Component

31

44

19%

* Growth rates based on numbers annualised from forecast period 2018 (1 March – 31 Dec).
5. Distribution yield:
To ensure the REIT receives stable income, the "entrusted manager" ensures the REIT is entitled to receive the "EMA Resultant", which comprises a Fixed Component and Variable Component.

The fixed component increases 3% every year.

The variable component for each property will be pegged to a fixed percentage of its total sales, so the REIT participates in the sales growth. All the operation expenses are borne by the "entrusted manager".

What if in the next two years the sales growth is slower than expected, which adversely affects the Variable Component, especially from two of the relatively new malls (Hefei and Kunming) which opened in May 2016 and Dec 2016?
For that, the "entrusted manager" is guaranteeing that t
he aggregate of the fixed component and variable component payable to the REIT from the rental income collected from the properties will not be less than a stipulated amount (the "Minimum Rent").

The "Minimum Rent" can be achieved if sales of all the malls meet expectation in 2018 and 2019.

If the amount payable to the REIT falls below the Minimum Rent, the REIT will be entitled to receive the shortfall.

The Minimum Rent requirement will "fall away" if it is achieved for two consecutive years starting from forecast period 2018.

After the Minimum Rent falls away, the distribution to the REIT's unitholders will track much more closely the sales performance of the tenants.

Note: The financial workings are complex, so refer to the prospectus or, for simplified workings, other reliable sources of information.
6. Cornerstone investors: There are 12 cornerstone investors, about twice as many as usual, and they include potential strategic partners.

Secoo Holdings (Nasdaq listed) is an online platform as is Adroit Idology (a unit of JD.Com). Then there is CKK Holdings (of Charles & Keith footwear brand) and Entrepolis Limited (a private vehicle of Dr Robert Yap, chairman of YCH Group) which could provide logistics services.

Other institutional investors include Bangkok Life Assurance and TMB Asset Management (belonging to the Thai Military Bank). A big name is L Capital Asia 2 through its wholly-owned Sparkling Gateway Pte Ltd.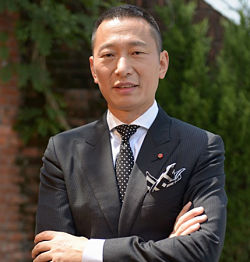 Xu Rongcan, chairman of Sasseur REIT, and founder of sponsor group (1989). Photo: Company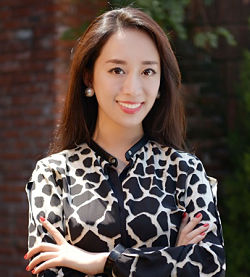 Yang Xue, co-founder, spouse of the chairman and non-executive director, Sasseur REIT.
Photo: Company
7. Online platforms are not competitors: They are taking market share from traditional department stores and shopping malls but do not compete significantly with outlet malls.

Reason: online platforms sell relatively low-priced and high-volume goods to the mass market but outlet malls are focused on premium goods which on average cost 5X more.

Even if branded goods are offered for sale by online platforms, the risk is the items are fake.

In outlet malls of Sasseur, this risk is markedly reduced because most of the shops are operated by brand owners, and consumers are rewarded hugely if they report any fake item.

8. Acquisitions: The REIT has the right of first refusal for two outlet malls that opened in 4Q2017. Located in Xi'an and Guiyang, they are already doing well.

Three other outlet malls -- in Nanjing, Hangzhou and Changchun -- are operated by the Sponsor which has been granted either a right of first refusal or an option to purchase.